A Guyanese vessel was held in St Lucia's waters last week with weapons, drugs and six Guyanese aboard and the ensuing probe led to a gun and ammo charge against a well-known boxing promoter on the island who was born in Linden.
David `Shakes' Christopher and his wife were charged in St Lucia with possession of an illegal firearm and ammunition following the investigation into the discovery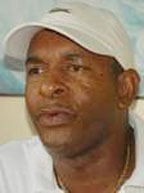 of a boat in the island's waters with drugs and six Guyanese on board.
According to St Lucia TV station, HTS Channel 4, Police charged 49-year-old, Christopher and his 46-year-old wife, Mary Clovis Christopher of Bois D'Orange, Gros-Islet, for the possession of an illegal firearm and ammunition.  The couple who appeared in court yesterday was each granted bail in the sum of $10,000EC, cash or suitable surety in relation to the charge of possession of a firearm.
According to the report, the Christophers were ordered by the court to surrender their travel documents and report to the Gros-Islet Police Station every Friday. They are not allowed to leave the state without the court's permission. The case was adjourned to October 12th 2011.
According to HTS Channel 4, on September 27th  police executed a Warrant at the residence of Christopher where they recovered a .380 pistol along with fourteen rounds of ammunition. Both Christopher and his wife were consequently arrested and taken into custody.
Acting St Lucia Police Commissioner Vernon Francois told the TV station that law enforcement is investigating the possible link between two high profile arrests on the island this week and the discovery of narcotics and a weapons cache aboard the Guyanese vessel in Saint Lucian waters on the weekend.
Police, according to HTS Channel 4 say the men were on a vessel called Vicky B and in possession of a number of items including thirty kilos of cocaine, forty-six kilos of cannabis, one 12-gauge shotgun, fifteen rounds of 12-gauge ammunition, thirty-five rounds of 9mm ammunition and five military explosive grenades. The items, the report said, were all concealed in a compartment at the extreme front of the ship. Francois says local police are working with Guyanese officials on the current investigation.
Francois told the station that the police investigation is continuing which could mean more arrests or detentions.
Christopher made a business visit to Guyana in May last year and spoke to Stabroek Sport. He had said that a team of amateur boxers from St Lucia was expected here for a Goodwill tour of Guyana sometime later that year.
Christopher who was born in Linden in 1961 to St Lucian parents took over the presidency of the St Lucia Amateur Boxing Association in January 2009.
Around the Web