The annual showcasing of Guyana's business and entrepreneurship sectors was opened last evening with neighbouring Suriname introducing over twenty companies to Guyana as part of a delegation to the expo, headed by its Vice President Robert Ameerali.
Ameerali in his address to a fair-sized gathering at the National Exhibition Site, Sophia stated that it was shows like GuyExpo that helped to bring the two countries closer. He added that Suriname saw Guyana not as a separate country in Caricom but the two as one body exploring the opportunities that Caricom had to offer. He described the day as a great one where entrepreneurship was taken to another level in Guyana's business sector.
The Vice President thanked ministers and the president but most of all the Guyanese public for making a reality the many businesses that Suriname was able to bring and showcase in Guyana. He added that  the special friendship Guyana's president shares with Suriname's leader   Desi Bouterse is testimony to both working together to achieve overall favourable outcomes.  The team he stated was in Guyana to prove to Caricom that the close relationship the two countries shared was indeed true.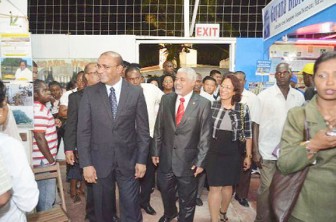 President Bharrat Jagdeo in his feature address spoke of  liberalizing the telecommunications sector. He noted that the relevant legislation missed the last parliament but stated that it is high on the agenda if the PPP was given another term.  He added that for too long this sector had been monopolized and no such economy would show real expansion or growth.
Jagdeo also asserted that at present Guyana was an investors market and advised business persons present not to pay attention to newspapers headlines lest they become scared and shy away from investing. "You have to look past today's headlines or you will never want to do anything" said the president.  He boasted that even though there were many cynical sneers and a global recession Guyana had recorded  5.9% economic growth for the first half of this year adding that it was only through integrated sustainable development that any growth can be achieved.
The president lauded the efforts of the organizers of this year's expo while saying that it indeed seems grander than the last.
Minister of Tourism, Industry and Commerce Manniram Prashad stated that this 12th expo came at a critical time when Guyana was undergoing major transformation in areas such as housing, agriculture, manufacturing and tourism among others.
He said "GuyExpo is the ideal marketplace to showcase Guyanese creativity, skills, products and services and investment opportunities. It provides, he posited, a platform for patrons to sample and negotiate all good things that Guyana has to offer. This year's expo, he added, was different since there were eight identified growth areas that persons could tap into such as mining, manufacturing, agriculture and aquaculture among others.
Chairman of the Private Sector Commission Ramesh Dookhoo addressing the audience stated that the exhibition has a distinguished history with persons coming from all over the Caribbean to participate and invest in it. This coupled with the growing number of entrepreneurs present represented a positive for Guyana's private sector.
Guyana, he said, was on a growth trajectory and urged that businesses take advantage and invest in the many areas that are available. He too mentioned Guyana's 5.9% recorded growth for the first half of 2010 and stated that it would be evidenced at the Expo.
While saying that Guyana  is  known throughout Latin America and the Caribbean  as the investment destination  of the future, Dookhoo further  said that  the Expo was the forum for many businesses to use when analyzing feasibility.
He gave examples of small businesses evolving into huge companies after they would have launched in 2005.
The PSC chairman ended by lauding the efforts of the country's craft producers whom, he explained were talked about throughout the Caribbean for not only creativity but standard of work and wished for a productive GuyExpo 2011.
The theme chosen for this year's expo is "Enhancing growth through competitiveness". The expo will be open today from 4 pm to midnight.
Tomorrow and Sunday it will be open from 2 pm to midnight. The entrance fee for adults is $500 and for children $300.
Last week, Prashad had told the Government Information Agency that over 300 businesses had indicated an interest in exhibiting at GuyExpo 2011.
He had said that only locally made goods, furniture and hardware products such as clay bricks and panel doors would be displayed in the main pavilion while over 120 booths in the annex have been allocated to local craft producers from across the country.
Around the Web