Demerara Distillers Limited (DDL) Foundation on Monday said it has selected seven new awardees to benefit from financial and other support from the DDL Foundation.
In a press release DDL said the awardees are Anjalee Ramnauth, Erik Jan Nissen, Tularam Ramanand, Sharada Samaroo and Saskia Singh of Queen's College and Rebekah Adolphus and Vani Ramnarain of The Bishops' High School. "These first formers were selected after having met the criteria by excelling at the National Grade Six Examinations," the release said.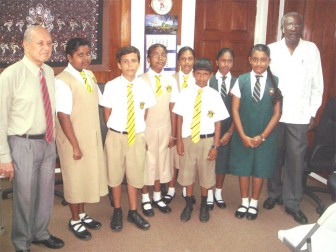 DDL Foundation Chairman Rudy Collins pledged to work with the beneficiaries to ensure that they maintain their level of performance up to the CXC level.  He noted that the students were selected from the top two percentile in the country and he urged them to maintain their standards.
In his address, DDL Chairman Dr Yesu Persaud noted that the company remains committed to the development of people, particularly youths. He lauded the students' achievements and noted that some of them overcame major obstacles on their path to success. Persaud noted that education is the key to overcoming poverty; telling the students, "Nothing is impossible…nothing happens until you make it happen."
According to the release the Foundation was launched in 2010 and focuses on the advancement of education of secondary students by providing assistance with the main costs associated with attending school. This includes books, uniforms, transportation and meals. "All students who have demonstrated their need for assistance as a result of their financial or social constraints can apply to the Foundation," the release said.
The Foundation comprises mainly volunteers from the DDL staff. It will also include a mentorship programme where each child will be linked to a mentor who will monitor their performance and provide the necessary moral and other support during the period of their relationship with the Foundation.
The Foundation is managed by a Board of Directors under Collins's chairmanship. The other directors are Chandradat Chintamani, Loris Nathoo, Sharda Veeren-Chand, Sylvia Conway and Evelyn Hamilton. Alison Thorne has been appointed the legal advisor of the Foundation and Sharon Sue-Hang will serve as Secretary to the Board.
Around the Web