Rights activist Ramon Gaskin was late yesterday afternoon chopped several times about the body during an armed robbery at his Campbellville home.
Three men, one armed with a cutlass and the others with guns, stormed the Dennis Street and Stone Avenue location around 5 pm as Gaskin was entertaining two female friends.
After ransacking the house and chopping Gaskin, the men escaped with three cellular phones and an undisclosed amount of cash and jewellery.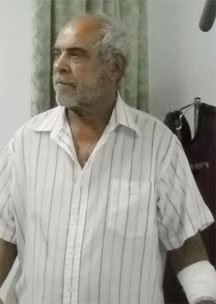 Gaskin told reporters at the Woodlands Hospital where he went to seek medical attention that one of the wounds to his head carried two stitches while another to his right wrist carried nine. His clothing and parts of his body were covered in blood. There was a bandage on his head inches away from two small cuts and his wrist was bandaged.
Recounting the sequence of events Gaskin said that he and the women were in the house when the three men walked through the open front door. According to Gaskin the gunmen had a long gun and a short gun. They demanded valuables and when he told
them that he had none, the one with the cutlass began chopping him. He said prior to that a gun was being pointed to his head.
According to Gaskin, "all they kept saying is weh de money deh, weh de money deh? They asked for money and then they start chopping and robbed the other occupants of the house." He added that the men tumbled the premises and held them at gunpoint for some 10 to 15 minutes.
In addition, he related that the men escaped with his scotch and about $50,000 he had in his pants pockets which was to be used to pay bills.
Among his guests was a friend from Essequibo who had travelled to Georgetown to attend GuyExpo. None of the women sustained injuries.
"I had to get stitches in my head but the brain still wukin," he told reporters, adding that though the police had been informed ranks were yet to arrive at his home to investigate. It is unclear if detectives went subsequently.
He said that he had been robbed twice before. At the time of the first incident, he said, he was at home and the other time he was not. During those incidents, the perpetrators escaped with valuables including a flat screen television set. "Can you imagine these guys?" he asked.
Gaskin was later sent home.
Around the Web