Ten-year-old Sameer Samshuddin remains in an unconscious state in the Intensive Care Unit at the Georgetown Public Hospital (GPH) where his condition is said to be critical.
The Strathoven Primary School student sustained trauma to the head and chest when the vehicle he was travelling in slammed into a lantern post at the Airy Hall, Mahaicony turn on Sunday morning, killing 12-year-old Raheem Xavier and 15-year-old Collin Williams.
Samshuddin's mother, Shazida, sat patiently in the waiting room yesterday, awaiting an opportunity to see her son. The boy reportedly sustained head injuries, a broken jaw, a broken shoulder bone and trauma to the chest.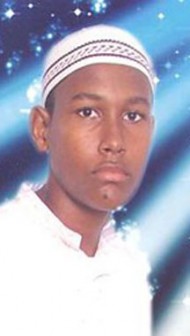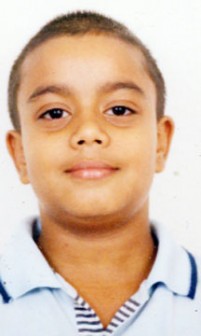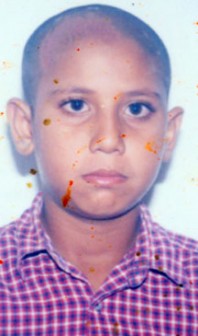 The boy's father, Mohamed Shamsuddin, who was also involved in the accident, yesterday told Stabroek News that his son is very "Islamic-oriented" and has represented Central Islamic Organisation of Guyana at an Islamic song competition where he placed 5th and went on to represent Guyana on an international level against Suriname and Trinidad.
The man stated that what happened on Sunday was the will of Allah, adding, "What He (Allah) has in mind has to happen… He is the ruler of the universe." With this, Mohamed said that they will not be furthering the issue with the driver, who is also recovering in the hospital.
Still a patient of the GPH is Ameer Ali, 19, of Good Hope, East Coast Demerara, who is stationed in the High Dependency Unit but is reportedly in a stable condition.
His mother, Zoreena, in a tearful state, looked over her son as he slept and could not manage to say much, except that Ali is her only child.
Ten-year-old Fazal Ali complained of back and shoulder pains as he lay in the Paediatric Ward of the hospital surrounded by a few relatives.
His mother, Babita, also pointed out that she will not have the matter go further as she is contented that her child is recovering well.  "I sorry for the driver. I went and see him and he can't even move or talk," the woman said, adding that the driver, Asif Hack, injured his spine.
Babita emphasized her concern for the driver as she pointed out that her son, a Grade 6 student of the Lusignan Primary School, is doing better. He is the youngest of 6 siblings.
Meanwhile, relatives of the deceased, Raheem Xavier, bid their goodbyes as the child was buried yesterday.
His sister, Salma, speaking with Stabroek News, said the family is very hurt at the boy's death but accepted it as it was his time to go. "I mean, he wasn't murdered but even if that had happened maybe that was how it was written for him to go," she said.
When asked whether any action would be taken against the driver, Salma responded, "You cannot kill a dead man. Charging him, passing him through the court and all that won't bring back our individual."
Collin Williams, the second child who died in the accident, will be buried today at the Providence Muslim Cemetery.
His father, Michael Williams, stated that the 15-year-old was his youngest with three sisters and one brother and considered him to be one of his "best child" as he explained that Collin had always been very obedient.
Around the Web