NASSAU, (Reuters) – Bahamas will crack down on gun  and drugs crime by introducing tougher penalties, strengthening  the police and courts system and applying the death penalty for  some categories of murder, the prime minister said.
Addressing the nation last night, Prime Minister Hubert  Ingraham promised vigorous government action against what he  called an "intolerable level of crime" threatening the Atlantic  island chain, where tourism is major driver of the economy.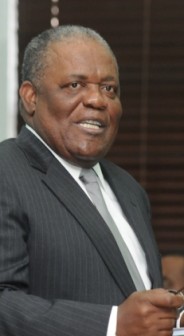 "We will get the crime numbers down," Ingraham pledged,  adding his government would introduce legislation to parliament  that would toughen jail terms for gun and drugs offenders and  also make it harder for suspects to obtain bail.
Bahamas, a scattered archipelago of islands stretching from  just off eastern Florida to near Cuba, has a population of  350,000 and is the latest small nation in the  Atlantic-Caribbean area to sound the alarm over rising crime.
Oil and gas producer Trinidad in August introduced a  limited form of emergency rule to try to halt a surge in  violent crime linked to the drug trade.
Ingraham said crime in Bahamas, which has an active cruise  line business and receives several million visitors from the  United States each year, had reached unprecedented levels.  Police have registered a record 104 murders so far this year,  surpassing the 94 for all of last year.
Authorities are worried about the potential impact on  tourism, which, along with related construction and  manufacturing, provides an estimated 60 percent of the gross  domestic product of Bahamas. The sector directly and indirectly  employs about half the Bahamian workforce.
The prime minister said the latest criminality had its  roots in "rampant drug trafficking and gangsterism" that had  flourished in Bahamas in the 1970s and 1980s. He announced  immediate measures to curb unlicensed firearms in the country.
From Wednesday, citizens and residents are being given 30  days to hand over unauthorized firearms or face a minimum jail  sentence of four years if caught with an unlicensed weapon.
Under planned penal code amendments, penalties for gun and  drugs crimes are being increased to a maximum of seven years.
The death penalty, last carried out in Bahamas in January  2000, is being retained and will be applied where victims are  members of the police or defense forces, the customs,  immigration and prison services, or of the judiciary. It will  also apply where murder occurs during acts of robbery, rape,  kidnapping or terrorism.
Additional anti-crime measures include greater use of  closed-circuit television monitoring in various high-crime  areas of New Providence, where the Bahamian capital Nassau is  located, and more magistrates courts to deal with gun and drugs  crimes.
Ingraham said the government was making available US$1  million for urban development and improvement programmes in  Nassau and Freeport to counter erosion of social values and  what he called a "creeping culture of lawlessness."
"Poverty is not an excuse for crime. I too grew up poor,"  the prime minister said, recalling that he was the child of a  single parent who grew up in a remote part of Abaco island.
Around the Web