The New York Daily News says that a Guyanese man in Queens, New York convicted of the largest 9/11 swindle is getting out of prison after serving less than half his maximum sentence and will be deported here.
The report said that Cyril Kendall, 61, defrauded kindhearted charities of US$160,000 by fabricating a fictitious son he said died in the 2001 terror attack on the World Trade Center.
Kendall was sentenced in August 2003 to serve up to 20 years in jail, but the Daily News said it has learned that he has been approved for early release from the Fishkill Correctional Facility.
It said that the state Parole Board granted Kendall's release from the upstate prison just two days after the country observed the 10th anniversary of the 9/11 attacks.
A condition of his freedom requires that he be removed from the country, an official at the state Parole Division told The Daily News.
The report said that Kendall's release date has not been set, but he is expected to be turned over soon to federal immigration authorities for deportation back to Guyana, the official said.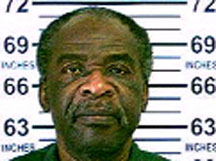 "I hope that some vehicle is in place for him to pay those charities back because their heart was in the right place," Diane Horning, founder of WTC Families for Proper Burial told the newspaper.
"I just think it's sad that he felt the need to do that, because who would want to put themselves in my position," said Horning, whose 26-year-old son, Matthew, died at the twin towers.
Kendall, the report said, was convicted of grand larceny and fraud after bilking several charities of benefits, including grief counselling for himself and burial funds for a son that prosecutors maintained never existed.
He had claimed that his youngest son, Wilfred, 29, died in the terror attacks while attending a job interview on the 91st floor of the north tower.
Kendall, said to be a father of 12, showed the charities a photograph of his dead son and a birth certificate. The Daily News said investigators later determined the photo was that of Kendall at a younger age and the birth certificate was a fake.
The report said that his biggest target was the American Red Cross, which was defrauded of US$119,000 – the most fraudulently obtained by a single individual.
Kendall has not paid back any of the funds, a Red Cross spokesman said.
Kendall was among 22 people arrested in March 2002 for falsely presenting death certificates for nonexistent family members and collecting US$759,565 in charitable funds, according to the Manhattan district attorney's office.
Around the Web