A 24-year-old man died on Saturday after his head was crushed by a steel pipe which he was carrying while on duty at Buck Hall in the north west.
According to reports, Kelvin Jordan, called 'Chicken', of Lot 8 Fellow-ship, Den Amstel, West Coast Demerara, was carrying the steel pipe along with four other individuals when he lost his footing and slid and as a result, the large pipe "come and lash him to his head".
The man's grandmother, Thelma Jordan said her grandson did not die on the spot. "They sent for a medic and a nurse travelled along with him but by the time he reach to Parika he start losing it and when he reach to Leonora, they pronounce him dead," the woman explained.
Thelma recalled receiving a telephone call around 9:30 pm that evening but said when she picked up the phone, she got no answer.
"About two minutes after I get the phone call, my neighbour's children start screaming and rolling and trampling and hollering so I jump up again and try to call them and when I do get them, they saying `we chicken, we chicken' and `I say what happen to `Chicken' and they say he dead and I say where and they say in the bush," the elderly woman recalled.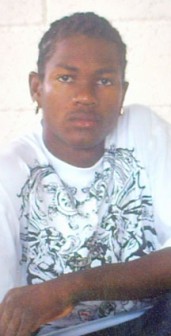 The woman said her neighbours received the information from a relative who is employed as a nurse at the Leonora Cottage Hospital. "They wake up de whole neighbourhood that night," Thelma said.
She stated that after she got the message, she informed her children who then went to the hospital and identified the body and had it transported to the mortuary.
The post-mortem examination, the woman said, showed that Kelvin sustained a fractured skull.
Thelma recalled her grandson coming over to her home, as he usually does, and having his breakfast before leaving around 8:30 in the morning. "He told me he might go in the bush but I thought it was the Monday after or so but like after this material come early they go over to transfer it," she stated.
Jordan lived on his own in his father's house located next door to his grandmother but the woman said that he grew up with her. "I does do all the cooking and everything for him and he does come in when he done work late and get he tea and so and then he does go over and sleep", she noted.
The boy's mother died when he was three years old and his father died in a road accident almost two years ago.
His grandmother pointed out that his employer visited the home yesterday morning and spoke to one of her sons. She said she was not yet informed of what was discussed but added that she does not think she will pursue the matter. "If they come forward and say look leh we stand the funeral expense and things like that I don't think I would take it further because is a lot of fatigue…justice ain't prevailing," she opined.
Jordan was employed by a company to "do foundation work" for Barama Company Limited.
Jordan's grandmother described him as a respectful, kind and sweet child who is well-known by his friends for his always visible smile. She further stated that he was very hard-working and was never found to be idle.
He is survived by four brothers and one sister.
Around the Web