An 18-year-old woman was on Monday evening stabbed by her husband of two year after an argument ensued between the two at their Lot 655 New Scheme, Haslington, East Coast Demerara home at around 7 pm.
Filisha Nauth has been admitted to the Georgetown Public Hospital where she remains a patient of the Female Surgical Ward and is nursing one stab wound to her left hip.
The woman said her 23-year-old husband launched the attack after she returned from her mother's home at Industry, E.C.D.
"Yesterday (Monday) was my mother birthday so I went and when I come home he ask me where I went and I told him by my mother and he said I lie and we start to argue," Nauth explained from her hospital bed.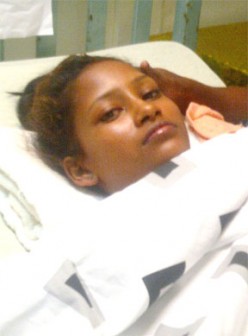 She further stated that her husband's parents, with whom they live, were at home at the time of the incident and attempted to have the issue resolved. "His father was going to part de fight and he go fuh juk de father and all," she said.
Nauth stated that her in-laws transported her to the hospital after realizing that she was injured and upon returning home, they discovered that their son had left the house. His whereabouts remain unknown.
A report was made to the hospital's police outpost by Nauth's relatives and it was noted that police officers yesterday visited the injured woman at the hospital where they took a report.
Nauth underwent one surgery on the night of the incident and is expected to undergo another although a date is yet to be given.
The young mother indicated that this was not the first time her husband, father of her one-year-old baby girl had abused her. He did so earlier this year in January. The matter, she said, was taken to court where the couple was placed on a bond to keep the peace for one year.
Around the Web