The Ministry of Amerindian Affairs says over $17M is being given to the most severely affected farmers and households in Region Nine which suffered losses due to flooding in June, as the assistance programme enters its third phase.
Recently, Minister of Amerindian Affairs Pauline Sukhai and a team from the ministry journeyed to the Annai sub-district which includes communities such as Crashwater, Rupertee, Wowetta, Rewa, Surama, Fairview and Toka, to distribute $20,000 to each home that had been severely affected. Approximately 856 persons reside in the Annai sub-district, a Government Information Agency (GINA) said.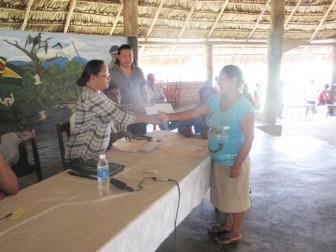 According to GINA, a team has remained in the area to continue the distribution process. To date, communities in the Karasabai sub-district, including Wichabai, Tiger Pond, Taushida, Yurong Paru, and Pai Pang, have received compensation. The minister said the list of beneficiaries was compiled through collaboration with toshaos, Community Deve-lopment Officers and District Development Officers and REOs. The ministry then verified the list.
Sukhai recalled that during the first phase of the response efforts, affected persons were relocated to shelters while the second phase saw steps taken to ensure that critical supplies, food and agricultural materials were provided.
She also noted that government's response was successful as it was supported by the agriculture, health, local government and public works ministries as well as the Regional Democratic Council and the Civil Defence Commission.
Regarding the input made by the agriculture ministry, Sukhai said there are currently many communities that are now more productive than before.
This has resulted in excess production that allows them to market their products across the sub-district and beyond. The minister encouraged villagers to re-examine their approach to agriculture in order to ensure food security. She also referred to the 'Grow More Food' campaign which has helped to propel and revitalize many communities into agriculture production.
According to Regional Chairman Clarindo Lucas it is critical for villagers to be aware of the adverse effects of climate change as a number of natural disasters that have never before occurred have been happening. In early June, extensive rainfall caused the bordering rivers to overflow their banks, flooding many Region Nine villages.
Around the Web