Twenty-five persons across Region Five are enhancing their skills at the Nanaimo Sewing School at Bush Lot, West Coast Berbice and will each receive an all-purpose sewing machine to take home.
The school which is being conducted by Canadian-based Guyanese Dr. Andra Thakur through the Guyanese Families Unite in Service & Education (GUYFUSE) organization, was launched last week.
Canadian High Commissioner, David Devine who attended the launch said projects like the sewing class give participants the "ability to realize their greater potentials and enhance their lives."
He said it was very encouraging to see individuals trying to empower themselves, noting that "as the country becomes more developed more skills are going to be required…"
The High Commissioner wished the students all the best and encouraged them to "use what you are learning as a guide to your future lives."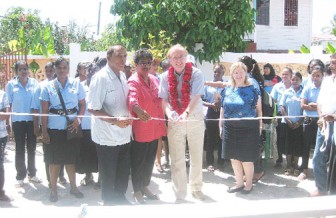 Dr. Thakur, a former lecturer in anthropology at a university in Thailand for over 35 years and a tailor before migrating, thanked the High Commissioner for accepting his invitation to attend the launch and for being the patron of the school.
In an interview, he told Stabroek News that the all-day intensive sessions are being run for a period of 14 weeks, five days per week and that he does not encourage lateness and absenteeism from classes.
He said 27 students, including two males have been registered and "they are quite enthusiastic about the class."
He found it amazing that some of the students did not even know how to manage a sewing machine but in three weeks they already knew how to sew. At the launch, the students were proudly decked out in shirts they had sewn at the class.
He provides the fabrics and teaches the students to sew and at the end they would get the sewing machines to take home.
He said they are focusing mostly on the school uniforms which would be donated to the poor children at mostly the primary level.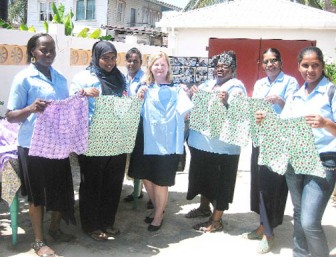 He started out with "pajamas which are easy to sew" and also created an instruction booklet to go with the course and it is being done in a very methodical and systematic way.
Dr. Thakur said he looks for local support base for the sewing school which is being held for the third year. Last year it was sponsored by the Corriverton Rotary Club and the previous year by GUYWID.
He was happy for the sponsorship this year from GUYFUSE, a new non-governmental organization that is headed by Valini Yacoob.
He said after realizing that young people are not doing much he thought of returning and "doing something relevant" and the sewing school came to mind. He is focusing on the depressed areas and said his next school would be held in Essequibo.
He has already acquired "enough sewing machines for that area… it is amazing that people just donate machines like crazy. I supposed that when people know you and know that you are doing something worthwhile they are ready to contribute."
He was "thinking of going to Lethem [next year] but I learnt through the High Commission's Office that two sewing classes were already done in that area."
Around the Web