Customers purchasing four Hunts products with any Champion pasta at any of the Bounty Supermarket chains countrywide will be given a Breast Cancer Awareness organic shopping bag.
In addition, a percentage of the proceeds will be donated to the Periwinkle Cancer Care Centre at the end month long awareness initiative. The companies hope to increase last year's contribution of $1 million given to the same cancer centre.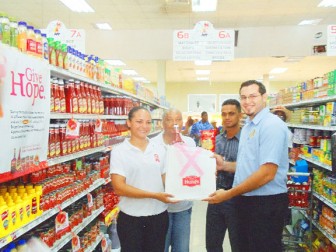 This announcement was made when Bounty Supermarket in collaboration with Toucan Industries, the local distributor of Hunts products and Champion Pasta a subsidiary of Edward Beharry and Company Ltd launched their Breast Cancer awareness programme to coincide with Breast Cancer Awareness Month being observed this October.
On Tuesday, the Avon Community Help Fund donated $500,000 for free examinations and mammograms during this month.
Around the Web