After being treated for a severe fever and a common cold for several weeks, one-year-old Shawn Debideen was finally transferred from the Mabaruma Hospital to the Georgetown Public Hospital when a lump started to develop in the left side of his stomach.
According to the child's mother, Donna Debideen, of Hotoquai Hill, Region One, Shawn had not fallen ill until mid-July when he fell from a chair, hitting his head. "He was never sickly before that," she stressed.
She recalled taking her son to the Region One hospital about 5 days later and she was told that there was nothing seriously wrong with him and was given a week's supply of antibiotic medication.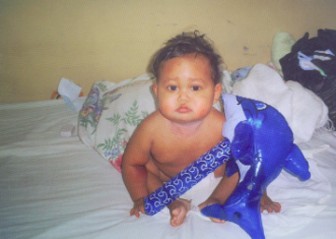 This, she said, helped in no way as her son further developed a fever and cold and also started showing symptoms of chicken pox. This prompted her to return with her son to the hospital, where she was again given medication that didn't help. The fever and flu continued "in and out", she said.
On their third visit to the hospital, Shawn was admitted and doctors said they suspected he had contracted malaria. "They been say his liver and spleen enlarge," Donna said, adding that although several tests were done, doctors were still unable to ascertain what ailed her son.
It was with a swollen abdomen, Donna said, that her son was referred to the GPH. "They say they gon get the plane to bring me down but they told me to make sure I have money to pay the taxi to bring me from Ogle to here [GPH]," she explained.
She said they arrived at the city hospital on August 12 and her son has since done a blood sample after which doctors indicated to her that the child urgently needed to have a bone marrow biopsy done. This test was done at the Balwant Singh Hospital, she noted.
"I had to carry the quotation to the CEO [of GPH] and then he gave me a slip to take to the cashier downstairs… She didn't give me the money though, she went to the hospital the day he had to do the test and looked after the bill," Donna said.
Shawn tested positive for 50% acute lymphoblastic leukemia. "It's curable though and he ain't deh in a critical state or anything like that," the child's mother said.
The baby is currently undergoing 28 days of chemotherapy, which he began on September 26. Doctors will take another blood test after this treatment would have been completed and if no improvement is seen, he will be required to repeat the treatment.
However, what the mother is more concerned about is the apparent effect on her son's hand caused by the chemotherapy treatment. "Like the thing leak on his hand or something and his hand start to decay… it swell and get stiff," she explained.
Besides that, the child is still suffering from a mild fever and is also vomiting. He is said to be eating very little and is breast feeding most of the time.
His mother explained that she stays at the hospital as well. She never visited Georgetown before now and has no relatives residing in the city.
The woman is sharing a bed with her son in the paediatric ward of the hospital. "I have 3 sisters from Timehri and they is bring things for me but they can't come everyday so sometimes the hospital is provide meals and so," she indicated.
Around the Web