The incumbent PPP/C is preparing to examine an invitation for its presidential candidate Donald Ramotar to participate in a presidential debate early next month with candidates from opposition groups APNU, the AFC and TUF.
PPP/C campaign spokesman Robert Persaud yesterday told Stabroek News that the party had received the invitation for the debate, which has been organised by Non-Governmental Organisation Merundoi Incorporated and several partners. He added that when a decision is made, the party would make its position known.
The Guyana Elections Commission has said that it could be prepared to hold elections in the second half of next month. The only presidential debate in Guyana was held for the 1992 elections between late former President Desmond Hoyte and then opposition leader Dr. Cheddi Jagan.
Merundoi's Executive Director Margaret Lawrence, in a statement issued yesterday, said that invitations had been sent to all parties represented in Parliament and so far opposition coalition APNU, the AFC and TUF have confirmed their participation.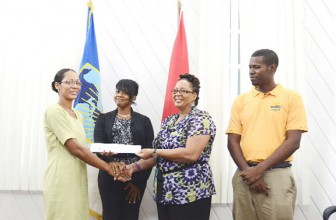 Ramotar as well as APNU presidential candidate David Granger and AFC Presidential Candidate Khemraj Ramjattan have said they are willing to participate in a debate. However, when questioned recently by this newspaper on the format the debate should take, Ramotar said he had not given the idea a "great deal of thought."
Merundoi, which is responsible for a radio drama that promotes behavioural changes that reduce the risk of HIV infection and transmission, said the 90-minute debate is scheduled for early November at The Theatre Guild.
It also said plans are afoot to have the debate streamed live on television, radio and the internet.
Merundoi explained that the goals of the project are to provide a forum where the candidates can present their platforms to the public and enable citizens to have a greater understanding of the positions of the candidates on matters of national interest.
The entity also hopes through the debate to facilitate greater public discussion on national and regional issues, create a forum for the public to be directly involved in the process and provide a forum where the candidates have equal access to the media while debating issues of national interest. It also envisages that the debate would contribute to a peaceful election process and encourage increased voter participation on election day.
Merundoi is collaborating with the Private Sector Commission, the Georgetown Chamber of Commerce and Industry, the Guyana Press Association, the Guyana Media Proprietors Association and the Council of Organisations for Persons with Disabilities. Technical assistance, it said, is being given by the University of Guyana's Centre for Communication Studies, the Faculty of Social Sciences, and the Jamaica Debates Commission.
Around the Web