Ten-year-old Sameer Samshuddin has reportedly started responding to pain, which, his father said, is an indication of his overall improvement.
The Strathaven Primary School student sustained trauma to the head and chest when the vehicle he was travelling in slammed into a lantern post at the Airy Hall, Mahaicony turn on the morning of October 2, killing 12-year-old Raheem Xavier and 15-year-old Collin Williams.
"When the doctors pinch him and things like that, he is ginching," the boy's father, Mohammed Samshuddin said.
The man further stated that when he arrived at the Georgetown Public Hospital yesterday afternoon, he realized his wife, Shazida, was smiling more than usual. He said upon inquiry, his wife told him that when she spoke to their son that afternoon, she saw his eyes move and was sure he heard her. "My wife told me she feel like she can finally eat again," Mohammed said with a smile.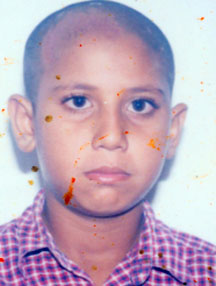 Also hospitalized were Ameer Ali, 19, of Good Hope, East Coast Demerara and 10-year-old Fazal Ali of Grass Field, Lusignan. These two have since been discharged from the hospital after spending a few days each. Other persons who were also injured in the accident were treated and sent away on the said day.
Still a patient of the GPH's male surgical ward is 34-year-old Asif Hack, the driver of the vehicle. He is said to have sustained injuries to his neck and spine.
When Stabroek News visited him, the man was seen with his chest and head fully cast as he lay entirely awake, almost motionless.
According to his wife, Hack is not being pressured to speak though he is capable of doing so. A simple task such as this, she said, can be very painful for him.
Meanwhile, Marketing Manager of the National Communications Network, Raymond Azeez, who was also involved in the accident, stated that relatives and friends continue to pray for a speedy recovery for the two remaining patients.
It was emphasized that what happened was "written by Allah" and the only thing left to be done at the moment is to pray and hope for the best outcome.
Around the Web