Less than two months after a car careened off the East Bank Demerara Highway into the upper flat of the Razack house at lot 35 Bagotstown Public Road, another car slammed into the front fence at the same location early yesterday morning.  Peter Holder, driver of the Toyota Allion PNN 4524 agreed to repair the fence belonging to Faizul and Amina Razack. Holder was released on $20,000 station bail at the Brickdam Police station for alleged disorderly behaviour.
The driver and another occupant were unhurt. A friend of the driver told Stabroek News that he and Holder were out "sporting" at the Palm Court Night Club on Friday night.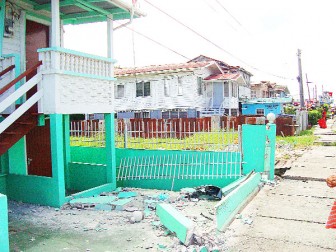 Eyewitnesses said that the driver was speeding and lost control of the vehicle as he negotiated the turn at Bagotstown. As a result he crashed into the front concrete fence which then crumbled.
Mr  Razack, a devout Muslim, told Stabroek News, "I'm not worried or stressed out, what I can do? It's all in the will of Allah." He said that he believed Holder would be true to his promise of repairing his fence and looked forward to speedy work.
His wife Amina added that after repairs, she would hold a religious function to insulate the premises from evil.
Police sources said that was the third accident for the year in which that yard was struck by a vehicle.
The Providence Magistrates' on September 18 ordered Robin Rajpersaud to pay the Razacks $800,000 in compensation. His car had flown off the road into the Razacks home on August 19.
Back then around 4 am, Mr Razack had been preparing for Ramadan observances at the nearby Peter's Hall Mosque. He said he had been in the lower flat of the house reading his Koran when he felt "an earthquake like shake" and felt things falling on him.
Around the Web