Sixty-eight year old Phulmattie Rami died the most horrible death one could ever imagine. The fisherwoman/vendor was stripped and beaten to death before her bruised and broken body was thrown into a canal in the Cane Grove, Mahaica backlands.
More than a month after her death, relatives are still baffled as to the reason for the sloth of police investigations. A petty thief is the prime suspect in the murder as some time before Rami's body was found he was reportedly seen covered in blood. He later jumped into a canal to wash himself clean.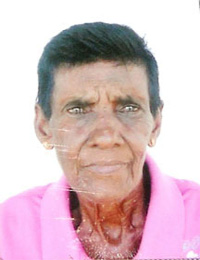 A distraught Parmawattie Murilall told Stabroek News recently that she wants justice for her mother and will only rest in peace "if I know is who did this."
She said that following her mother's death people came to the "wake house" talking all sorts of things. She said that one of those persons implicated a young man in the area who usually fished in the Mahaica Creek and was known for small-scale crimes in the community. Murilall said that according to one man he saw the suspect running through a track by the dam that ran alongside the canal where Rami popularly known as 'Auntie Dool' was found on August 29.
The resident reportedly told her that by the time the man approached him, he was breathless from running. "He seh he ask de boy how he trembling suh and he [the suspect] seh he do something and he don do wha he gotta do," she recalled.
Murilall said that she was told that the man, who was wearing only black pants then plunged into the nearby canal. She said that the resident who provided her with this information is willing to go to the police, but he "wuk gat he lil tough."  She noted that had the police gone to the area and done proper investigations they would have picked up information.
The woman said that some time before her death, her mother had told one of her sons that the suspect was always asking her for money when he saw her in the backdam, and had even threatened her when she refused to give it to him on one occasion.
She speculated that her mother, who takes her money with her when she leaves home, must have refused to give the man money. She said that about one week before her death, she had $21,000 and later collected her $7,500 pension.
She may have gotten more from the ducks and fowls she sold, she said, adding that she would usually pin the purse with the money between her breasts. To this day the purse remains missing.
She added too that the sale of shrimp and fish brings in good money, emphasizing that her mother had a lot of money on her person when she was killed.
"That person know her good so he woulda know her routine," she said adding that there are reports that the man had attacked another woman but that she had fought back. Murilall said that the last word she received was that the man was an inmate of the Camp Street Prison but she could not say for what offence.
She said that since the murder she has heard nothing from the police. She recalled the police saying that they needed eyewitnesses to aid in their investigation.
"I wasn't satisfied with that. I was wondering what was going on and what we can do," she said in response to what the police initially told them about finding eyewitnesses. She noted that the statement was not in order since it was the police's job to find eyewitnesses, but that no proper police investigation had been done.
"We ain't get no justice and me nah know what to do," she said
She pleaded with the police to investigate some more because "we just hearing all these things."
Turning her attention to that tragic day, Murilall explained that her mother had gone fishing. She said her mother who lived in Mahaica Creek had been catching fish in the backdam since she (Murilall) was a little girl. Her mother, she said, went to the same area every day to catch fresh fish and shrimp and it would have been easy for someone to track her movements, since  Rami would leave home between 6.30 and 7 o'clock every morning depending on which part of the backdam she wanted to go. Her mother was usually back by 2 pm but might go later if she went to sell her catch.
Murilall recalled receiving a telephone call from a neighbour who said that her (Murilall's) brother had said that Rami had not returned from the backdam. This call came around 6 pm. She said that her brother after not seeing Rami concluded that the elderly woman was at a son who lives near the track she had to take to go into the backdam. He sent his son to check for her but she was not there. Rami, Murilall explained would leave her hook and seine at that son after fishing every day but the items were not there when the grandson went looking for her. This would have meant that she had not yet arrived there, which was unusual given the time.
The woman told Stabroek News that it was at that point that her brother became worried. She said she advised him to immediately make a report to the police.
She said that at the Cane Grove Police Station, the police told her brother to go and search for the missing woman.
Search
Acting on the police's advice she said her brother, his children and a neighbour went into the backdam area to search. An emotional Murilall said that the group first found the woman's clothing including her underwear which was "roll up like when yuh tek it off" on the dam.
Her hook still stuck in the cork was also found. According to Murilall, her mother would secure the hook in a certain way when heading into and out of the backdam and it was in that position when it was found.
She said that the group after walking a little further found Rami's naked body floating in the canal about four miles into the backdam. She said that the police was immediately informed that they instructed that the body must not be touched. A rank later called back and said that they could take her out.
According to Murilall this was done. The body was placed on the dam she said, adding that "the whole back was bruise like someone drag she." She said that the neck was badly swollen and black. Also a pair of earrings had been pulled off her ears resulting in the earlobe being ripped. Murilall added sadly that her hands and feet appeared to be broken.
"She look as if she get beat bad. She musie fight too and she musie holla fuh she life," she observed.
She said that a post mortem revealed that she died as a result of multiple injuries but no information regarding whether she was raped was released.
Murilall's view was  that her mother was attacked before she started fishing because of the way the hook was when it was found and the fact that the seine was very dry.
Planning a trip
Murilall told Stabroek News that shortly before Rami's death she was planning to take the woman to Suriname on a holiday. Because of her commitments to raising her children, she had never had a vacation and was not even the holder of a passport.
"I wanted her to see a new place. She wanted to get her passport and she wanted to go to Suriname," the emotional woman recalled.
She said that she last saw her mother one week before she died. She said that Rami had stayed at her Good Hope, East Coast Demerara home for several weeks. She said that she wanted her mother to stay for a while longer but the woman said "if she stay by me she gon dead quick."
She said her mother left her (Murilall) home strong and healthy only to have her life snuffed out while going to make an honest living.
She explained that Rami, a mother of nine, had none of the regular health issues – pressure and sugar, and was very independent and hard working.
"One week after she left me house I see she naked as she born at de station dead with all she neck going round," the woman told this newspaper.
She called on the police to investigate some more to catch the person responsible so that she and her family could get justice.
Around the Web