Joseph Hamilton says his decision to join the PPP/C is testimony to the evolving nature of politics and has nothing to do with him being a 'political grasshopper' or political opportunist but rather because he believes that the PPP/C is the soundest political entity in Guyana.
"I believe that we have to reach the stage in this country whereby any citizen can make a political determination at an election on the suitability of any political candidate," Hamilton said during an interview with Stabroek News.  "Gone are the days when people should be locked into some racial consideration," he added. Politics, he said, "is a dynamic and fluid thing…and so in politics they always say you never say never," as he explained his shift from one side of the political spectrum to the other.
Hamilton, a former senior PNCR member, formally indicated his support for the PPP/C presidential candidate Donald Ramotar when the party officially launched its campaign at a rally at Albion. This is the third political entity that Hamilton has joined since starting his political career in the 1990s. He was first a member of the Good and Green Guyana (GGG) before joining forces with the PNCR.  He withdrew from the party in 2007 following a showdown between the Vincent Alexander-led wing of which he was a part and that of another group led by present party leader Robert Corbin.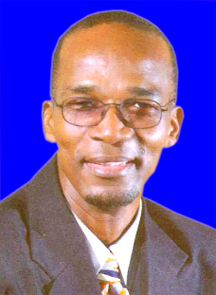 Responding to suggestions that he may have been offered incentives to join the PPP/C, Hamilton openly rejected this saying that this was "PNC-style politics."  "I reject that openly. Everything I have acquired from a humble country boy, was acquired not by any political urgings of anyone but it was acquired by these two hands," he said.  "When you're credible  and it is not easy  [for people]to throw mud on you, people who are opposing you … and I suspect one of the fastest and easiest mud to find is to suggest a man is paid off to come on a platform, " he added.  His decision to join the PPP/C, he said has to do with the fact that the party is "the best and the most structurally sound political entity in the country".
His desire to make a contribution to his country coupled with a personal belief that he is a politician at heart led him to seriously consider returning to active politics after four years on the sidelines. He said after clearing it with his family, he had to make a decision which entity to support.
He rejected returning to the PNCR's fold because he believes that the party still has not changed from when he left it in 2007. "At the level of the PNC, I have not seen anything dramatic that has happened as regards how the PNC prosecutes its policies," he said.  He said too that the opposition coalition A Partnership for National Unity (APNU) was simply a façade.  "The PNC is at a juncture where I believe, based on the articulation of several of its senior members speaking to me about my decision (to join the PPP/C), whether it wants to be a black nationalist movement or whether it wants to be a national party," he said. According to him, since he announced he was supporting the PPP/C, all the concerns he has gotten from senior PNCR members revolved around the question of ethnicity and not about the party's programme.
He also expressed reservations about APNU's presidential candidate David Granger who he said lacked the political experience to lead the coalition. "I am of the view that the energy and the dynamism that are necessary for political energy, Mr Granger is incapable of bringing… to bear not because of age but because of his political inexperience," he said.  "You can't at 65 wake up and thrust yourself into politics," he said; the political energy of the presidential campaign comes from the leader. That is why the campaign of APNU is lacklustre; it is not the campaign of a challenger; it is not a campaign of a set of people who want to win an election… There is nothing that suggests that there is a fight that is being put up," he opined.
Speaking about the AFC, Hamilton said he never had any desire to join that party and could not support the candidacy of Khemraj Ramjattan who has openly rejected any possible alliance with the PPP/C or the PNCR.  "He [Ramjatan] has said 'never'; no politician worth his salt says never … you can't be serious when you want to govern a country and you take the position that you will never participate in an alliance with the PPP and the PNC," he said. This aside, Hamilton went on to say that he had a serious problem with the bitter politics practised by the AFC's presidential candidate. "Khemraj Ramjattan comes across as a very bitter political leader," Hamilton said.
Questioned about joining a political party that he had previously criticized, Hamilton said that some of his comments may have been made based on misconceptions.  "In hindsight some of my comments might have been overbearing, some of my comments might have had no basis because they were made based on the perceptions I had about a person," he said. According to him, he and Donald Ramotar have been good friends for some years now and he has gotten to know some of the other party members in social settings.  He emphasized that this is when someone is able to see the "real measure" of a person.  He said too that he was impressed with Ramotar's developmental plan including the housing programme, the hydropower project, and his articulations on matters close to his heart such as corruption and the drug trade, among other issues.
Asked to assess the presidency of Bharrat Jagdeo, Hamilton said that there were both positives and negatives about his presidency.  "I give Jagdeo credit for this: I think in 12 years he has been able to outmanoeuvre every politician in this country. If I'm to grade him, I'll grade him A for that," he said. He said he gave Jagdeo "great credit" for transforming himself from a man who was an unknown politician figure into one who was the most popular in the country.
Regarding policies and programmes, Hamilton said that the President has been working daily to put programmes and projects in place that are beneficial.  While these projects are good, he said that very often hiccups and problems develop with their execution.  "The infrastructural programme – whilst you can debate the execution of some of them, it is a successful infrastructural programme," he remarked, while praising the government's housing programme.
He also spoke about the apparent "brashness" of the President. "There are times, in my estimation and in my opinion… Mr Jagdeo comes across as being very brash…some people articulated it as showing political strength. So what may be brashness for me and you, someone else looking at it, is saying that is how you show political strength and authority," he said.
Regarding the drug trade and the repeated allegations of links between government officials and drug traffickers, Hamilton while expressing great concern about the drug trade said he had no evidence to link the government to drug traffickers. "I don't have any firsthand information that could suggest that the allegations are more than allegations, he said.   "What is evidential to me is that there are a lot of persons who I can say have acquired questionable property holdings, that is not a rumour or gossip, you see it… but as regards the government or a government official, I have no information other than allegations and what you hear about the place that people have relationships with drug people," he said.
Questioned specifically about the government's refusal to have an international probe into the activities of Roger Khan here, Hamilton said he did not have a position on the matter.  "Any government makes a determination at specific moments and time in what they consider after looking at all the variables in their own best interests," he said. "And I have heard the President articulate that the matter has been tried and tested and therefore there is no need for any international investigation," he added. Hamilton said, however,  that should Ramotar win the upcoming elections, he would have "his work cut out" to deal with this matter and all the spin offs that result from drug-trafficking.
Asked about corruption and racial discrimination in Guyana, Hamilton said he did not have evidence of this. Speaking specifically about corruption, he said: "I have no evidence of any political government functionary involved in corruption."  However, as a businessman he said he has had to deal with bureaucratic systems which lead to corrupt activities.  He said though that the fact he had no evidence does not mean that corruption does not exist.
Meanwhile, speaking about racial discrimination in Guyana, he said he does not believe that there is a governmental policy to deliberately discriminate against groups of people.  "I don't believe there is a policy to discriminate. What I suspect is that there are persons, who for whatever reason, some might be political, some might be financial, have done things which can be considered discriminatory," he said.
Questioned about the four-month ban instituted by President Jagdeo against CNS Channel 6 owner CN Sharma, Hamilton said that from what he has read Sharma was guilty of breaching his licence but said were he President he would have done things differently.
"I as a citizen, if I was in Mr Jagdeo's position, I think I would have left Mr Sharma alone. I mean Mr Jagdeo, at the end of the day, he would know best why he took the position he took," he said. He felt though that the Sharma situation may be an unnecessary distraction at this time of the political campaign.
Around the Web