What could have been a major tragedy instead turned into an oil bonanza as dozens of residents from parts of Linden rushed to get oil from a tanker which had overturned and ruptured while negotiating a steep turn at the foot of the Winifred Gaskin Highway at Wismar.
Shortly after 4pm a laden oil tanker was heading down the Winifred Gaskin Highway on its way to the Bosai bauxite plant when tragedy struck.
According to eyewitnesses the truck GFF 9049 with trailer TGG 6681 was proceeding along the highway at fast rate and upon approaching the dangerous turn the driver apparently lost control of the tanker. "This is what I see with my two eyes, when he reach near deh corner it had he was coming so fast and as he beat deh corner a minibus was coming from the other direction heading to Wisroc and was confusion," one said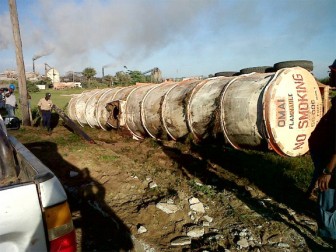 This was the story related by several others on the scene. They said that the minibus was fortunate to divert from the highway into the Canvas City road without being hit by the truck. Several passengers who were in the bus at the time, said that it was the scariest moment of their lives. A lad said that he was seated in the middle of the bus and noticed the tanker swaying. "Boy we lucky boy, we driver barely managed fuh dash over to deh school street." he recalled.
The truck ran into the recently constructed bus shed crushing it flat. It was this collision which caused the tanker to break loose from the truck and turning turtle, resulting in  hundreds of gallons of diesel flooding the Canvas City playing field.
The driver  managed to hold the steering wheel of the truck fast, thus preventing it from overturning and  injuring him.  An electrical pole, however, was broken in the process.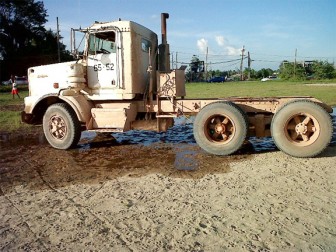 As word of the incident spread, dozens of residents rushed to the scene with containers of all shapes and sizes to cash in on the breach. The scene was transformed into an oil market as buyers purchased diesel for as low as $2,000 for a five gallon bottle.  Oil which was free of contamination was being sold at $3,000 for a five gallon bottle. Some persons were even selling barrels of the fuel.
Several  BOSAI officials and firemen stood helplessly by at the time of SN's visit; there were no police ranks visible.
Around the Web