Satrohan Mannaru, 21, of Mibicuri South, Black Bush Polder, was yesterday charged over the stabbing to death of his ex-girlfriend Indranie 'Cynthia' Basdeo, 14, at a school playground.
Mannaru appeared before Magistrate Fabayo Azore at the Whim Magistrate's Court and was remanded to prison until November 1.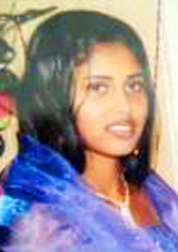 According to police, pathologist Dr Vivikanand Brijmoham yesterday performed a post-mortem examination on the body of Basdeo, of Mibicuri South, Black Bush Polder, and the cause of death was determined to be shock and haemorrhage due to incised wounds.
Basdeo was fatally stabbed in the region of her heart at the Mibicuri School Ground last Friday afternoon. She was on her way to attend school sports when she was allegedly attacked by Mannaru, with whom she had previously shared a relationship.
The dead girl's sister, Roshnie, who witnessed the attack, said it occurred when the suspect told Basdeo to wait and she refused and continued walking. "This got him angry and he whipped out the knife and slashed her chin," she said, while adding that the girl attempted to run away but the man grabbed her hair and forced her to the ground. "She try to block when he go to stab she but he still give she a deep stab to she heart and he turn the knife and then pull it out," she said.
The man, with his family, had proposed to marry Basdeo, after she moved to Black Bush in 2009. Her parents told him that he had to wait until she reached 16 before she could marry.
Basdeo eventually broke off the relationship with Mannaru after a misunderstanding, but he is reported to have kept following her and threatening to "bore her," while carrying a knife with him. A report to the police last month resulted in the suspect being locked up for one day. As a result of the threats, the girl had stopped attending school.
Around the Web