Approximately one month after students and parents protested the shoddy condition of the Golden Grove Secondary School at least 80 per cent of renovation works have been completed.
Among the improvements are the provision of 20 computers, which were delivered to the school yesterday,and the installation of new electrical wiring and fittings, correcting the problem of persons being shocked when turning on and off the lights.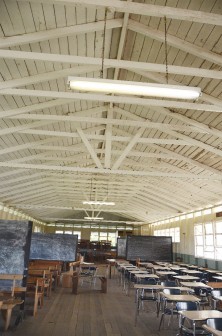 In addition the three classrooms under the Home Economics building which were condemned have been given a complete makeover and the school is currently awaiting furniture so that they can be used.
The gate of the school has also been installed while contractors await additional materials to complete the eastern side fence of the school. Sources disclosed that while the gate for that side of the fence has already been procured it made no sense installing it before the fence was fixed.
President of the Parent Teacher Association (PTA) David Gentle said he was pleased with the way works are going. "Our protest did not go down in vain," he said. "The work at the school is testimony to this". He added
"I am very pleased with the progress the contractor has made in two weeks. If he had all the material more could have been done but it will be done he is from our village so he has the school's best interest at heart."
Work on the school is being carried out at weekends and in the afternoons so as not to disrupt teaching.
Around the Web