The trial of Keith Doris, who is charged with the murder of elderly shop owner Rambarran Singh, began yesterday with a voir dire.
It is alleged that on November 24, 2006, Doris murdered Singh, 69, called 'Jaio' of 26 Good Faith, Mahaicony at his home and business during a robbery.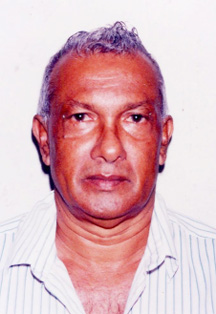 The voir dire is being conducted by Justice Dawn Gregory-Barnes to determine the admissibility of the caution statement and other aspects of the prosecution's evidence.
Singh was found dead minutes after the attack, in which three persons who posed as customers carted off a large sum of money and jewellery. The three men, one of whom was armed with a gun, attacked Singh and his son while they were closing up the shop, which they operated at the bottom flat of their home. A post-mortem examination revealed that the man was hit in the head and suffered congestive heart failure as a result.
State Prosecutors are Prithima Kissoon and Konyo Sandiford and defence counsel is George Thomas.
Around the Web