The US Embassy has presented to Minister of Agriculture Robert Persaud the results of a study conducted by USAID on Guyana's Legality Assurance System which outlines mechanisms that can be used to enhance the country's forestry industry to meet international standards.
US Ambassador Brent Hardt presented the report to Persaud at his Regent Street office on Monday, a Government Information Agency (GINA) press release said. In receiving the document, Persaud said USAID's contribution is very valuable as it addresses areas including traditional agriculture, aquaculture, and more importantly support to the Guyana Forestry Commission (GFC).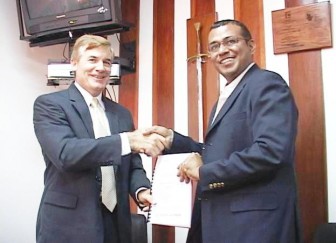 "This type of study done on the legality assurance system is very necessary in the context of our LCDS, but moreso if we are going to have a viable forestry sector and be able to export into a target market" he said. Persaud noted that the enumerated areas of assistance have allowed Guyana to continue to be a model to the world on operating and managing its forestry sector. He said without US support in this regard, it would have been much more difficult for Guyana to have gotten "glowing reviews" and meet the requirements outlined in its arrangement with the Norwegian government.
Persaud said he hopes that the initiative would benefit the nation in terms of facilitating development along a low-carbon path since this type of intervention, in the long term, allows the sector to continue to provide livelihoods for persons who depend on forest and forestry products, and the marketing of its eco-services. Regarding the mapping of forests, which is done through satellite imaging, Persaud said it is mandatory that all concessions conduct a 100 per cent inventory which identifies the species and their habitats.
According to GINA, the US ambassador noted that forestry has long been one of Guyana's premier recognised international resources and is an emerging sector that has increasing importance particularly in light of the LCDS and REDD+ initiatives; therefore, forestry management, practices and policies are indispensable to the future of the sector.
"Recognising this, the US Government through the USAID has sought to target special support to Guyana's forestry products sector as one of four strategic sectors that we have been working with the government on to spur economic growth," Hardt said. The other strategic sectors are non-traditional agriculture, aqua-culture, and eco-tourism.
The US has also supported the development of Guyana's wood products through the Guyana Trade and Investment Support project and an agreement with the US Forestry Service in Washington DC. The ambassador said the review of Guyana's legality assurance system is the latest reflection of this continuing trade investment support and he applauded the GFC, Forestry Products and Marketing Development Council, the Guyana National Bureau of Standards, Forest Products Association and other agencies for "taking this bold step to produce the legal assurance system."
According to GINA, the review was conducted by a United Kingdom firm and is designed to ensure that Guyana's legal assurance system complies with international standards and best practices. Extensive consultations and input were provided both by private and public sector stakeholders to shape the final product. Hardt also noted that the forestry commission has benefited in areas including building staff capacity on geographic information systems, remote sensing, development of a national forestry inventory and monitoring verification system, developing local capacity to test the characteristics of different variety of wood for commercialization and participation in wood products trade fairs and conferences, such as the internal wood products association where Guyanese exporters have been exposed to some modern methods of harvesting, processing, distribution and the establishment of key linkages in international areas. Work has also been done with forestry stakeholders in an effort to mitigate fires in fire prone communities.
"We have prepared Guyana's wood exporters to compete in the US market by bringing experts to Guyana to help deal with our own legislation that prohibits trade in illegal timber, so this is a high bar to reach and we are keen to see more Guyana wood in the US," the ambassador said.
Around the Web