Acting Prime Minister of Dominica, Ambrose George has warned that the region is rapidly mortgaging its food sovereignty while failing to adequately follow-up  on such schemes like the Jagdeo Initiative on Agriculture.
George, addressing the Joint Opening Ceremony of the Climate Change and Science and Technology Workshop last Sunday at Arrawak House of Culture in Dominica, said further that over the past years there has been a  significant decline in traditional exports to the EU and out migration from agriculture in the Caribbean, while the  extra-regional food import bill is estimated at around US$4 billion  annually.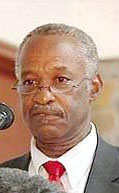 "Essentially, ladies and gentlemen, we are rapidly mortgaging our food sovereignty,"  George asserted, according to a press release from the CARICOM Secretariat at Turkeyen.
The EPA "has implications for many of our small open economies. However, without the successful implementation and operation of the CSME, we will be unable to take advantage of economies of scale in the region, let alone to capitalize on the vast market access that the EPA affords Caribbean exporters."
And in his view, he added, "the major actors in implementing the CSME and to some extent the EPA have waxed cold."
A number of initiatives that are approved by the CARICOM Heads of Government "seem to fade into the background once the Heads look the other way,"  the prime minister observed.
And citing the  Jagdeo Initiative on Agriculture which was  approved by the CARICOM Heads of Government Conference in 2006, he said it has "at its core all the elements that you will discuss during your stay here in Dominica, for the transformation of Caribbean agriculture in a manner that ensures market competitiveness, addresses food and nutritional insecurities and employment, particularly among the rural resource poor."
"These areas of concern," he declared, "should form the fundamental objectives of your deliberations, in addition to strategies for adaptation, mitigation and building resilience to the harmful effects of climate change."
The policies and programmes for the agriculture sector in CARICOM as set out in the Jagdeo Initiative were expected to ensure that the region's agriculture sector is given priority in order for it to become sustainable.
George also noted that there is  need to take stock of the probable negative impacts that climate change will have on agriculture in the region in the future.
Prime Minister George also told the workshop that it's a certainty that the climate is changing and  its adverse effects are taking a heavy toll on the  national budget.
He said it has been widely reported that the negative impacts, such as drought, intense rainfall, flooding and sea level rise, etc. will cost the English-speaking  Caribbean 5% of GDP annually.
"Here in Dominica," he said, "this is already being felt as government must respond to different forms of natural disasters each year…"
Meanwhile, Dominica's Minister of Agriculture Matthew Walter, speaking also at the opening ceremony, emphasized that in light of climate change "the issue of adaptation becomes very critical."
"It is crucial because we are a small island developing state with a narrow and fragile economy.  According to the International Monetary Fund (IMF), each Caribbean country loses approximately 2% of their GDP from the effects of hurricanes on an annual basis.  The IMF indicated that in 2007 Hurricane Dean caused infrastructural loss of 20%."
He said further that this  means that  Dominica must adapt to reduce its vulnerability and mitigate its losses.  "This is particularly true for the agricultural sector which provides 20% of GDP and employs 35% of the population," he added.
Against this background, the Dominican Agriculture minister said that his country will seek to build an agricultural sector that is climate-friendly and smart. "Government will continue to work with the Dominica Organic Agricultural Movement (DOAM) to expand organic agriculture to take advantage of market opportunities.  Farmers will be trained to utilize environmentally friendly practices that support biodiversity and contributes to food safety, human health and well-being."
Walter also said that Dominica will pursue investments  and adopt science and technology, utilizing and expanding current capacity in green house and irrigation systems.  They will also work with friendly governments and supporting organizations such as IICA, CARDI, and FAO, among others,  and seek to benefit from technology transfer to improve crop variety, quality and output, the release stated.
Around the Web