APNU Presidential Candidate, Brigadier (ret) David Granger says he will make the Cuyuni-Mazaruni safe and will ensure that Bartica becomes a town.
According to a press release from APNU (A Partnership for National Unity) Granger made these commitments while meeting residents of that community last Saturday.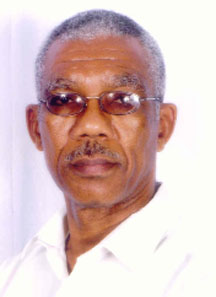 Granger said that he is proud to have grown up in Bartica where he attended the St. John Anglican Church and school. He reminded Barticians, the release said, that their town was the oldest, most beautiful and restful hinterland settlement.
Bartica, established nearly 170 years ago, is well laid out and possesses the needed infrastructure for a town – aerodrome, banks, churches, mandirs and masjids, hotels, hospital, market, police station, post office, schools, TV station and utilities such as telephones, electricity and water supply. And its annual Easter Regatta is an important national festival.
According to the APNU Presidential Candidate, under his administration Bartica, which has been deliberately denied township status by the People's Progressive Party/Civic administration, will have its own mayor and its legendary cultural life will be restored.
Granger noted that Bartica is the capital of the Cuyuni-Mazaruni Region, an area that is bigger than Switzerland and potentially the richest part of the country.
"This region is bigger than any other English-speaking country and will become an economic powerhouse under an APNU administration," he was quoted as saying. Granger also promised to unlock the region's potential by making it safe for investors, miners, loggers and tourists, the release stated.
He added that the February 2008 massacre in which a dozen Barticians were slaughtered was the consequence of the PPP/C's bizarre public security policy which failed to prevent lawlessness and failed to protect ordinary citizens from criminal violence.
"There will be a full inquiry. I'll convene a Commission of Inquiry and you'll have answers to that horrible crime against Bartica. The PPP has not done it and will never do it," Granger said.
Granger also assured residents that the Police Commander of 'E and F' divisions will be relocated from Eve Leary in Georgetown to Bartica.
Moreover, Granger said, the police will be provided with the aircraft, boats, manpower and other resources to protect the lives and livelihood of ordinary people and ensure the security of the entire region.
Granger's delegation to Bartica included former members of the National Assembly Amna Ally, Judith Blair-David, Dr. George Norton and Clarissa Riehl, Guyana People's Partnership leader Vaughn Phillips and James Bond.
They were joined by a large contingent of Barticians led by Regional Chairman Holbert Knights and former Chairman Gordon Bradford, the release added.
Around the Web