John Blanchard, who fatally knifed two of his children to death, has told police that he committed the acts because of problems he was experiencing with their mother.
He said also that he had called the woman and told her that he was going to kill the children, and sometime later the woman called back and he related to her what he had done, a police source told Stabroek News yesterday.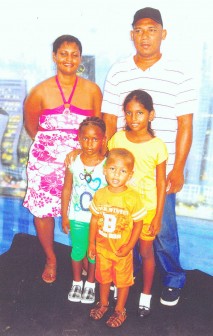 Blanchard, upset that his wife, Onicka Blanchard, left for the interior to seek employment as a cook, reportedly attacked his three children on Tuesday night at their Soesdyke, East Bank Demerara home. The attack resulted in the deaths of his 10-year-old stepdaughter, Belika Blanchard, and his 4-year-old son, Daniel Blanchard. His other daughter, six-year-old Joy Blanchard, survived the attack and is recovering in hospital.
Neighbours had reported that the couple had a turbulent relationship in which they frequently separated, and some time ago the suspect had informed relatives of his intention to commit suicide and to "take them [the children] with him." After he committed the acts, he was found by relatives as he tied a cement sling to the rafters of the house to hang himself.
The man is expected to be charged on Friday, after post-mortem examinations are performed on the children's corpses.
Onicka Blanchard, who was at Mahdia at the time of the attack, left for Georgetown yesterday after news of the tragedy reached her.
Meanwhile, Joy Blanchard was yesterday showing signs of improvement, but doctors are continuing to monitor her condition.
The child remained on life support in the Intensive Care Unit (ICU) of the Georgetown Public Hospital (GPH) yesterday.
According to an aunt of the children, when she last visited the child, she was finally able to breathe on her own, but doctors opted to keep her on life support to avoid fatiguing her.
When asked how she felt about the incident, the audibly distraught woman stated that she had "no idea how to feel right now…I feel frustrated…"
Two deformed knives recovered from the scene by the police bore testimony to the brutality of the attack. A police source told this newspaper that investigators recovered the knives in the house.
The rank explained that the implements were bent out of shape and the handle of one was broken off. Stabroek News had reported that a cutlass, suspected to have been used to inflict the injuries was found, but the police source said that the knives were the murder weapons.
A neighbour had heard one of the girls, suspected to be the eldest, screaming "Daddy how yuh gon do this to we?"
The incident occurred around 9.30 and relatives were surprised when they discovered that the six—year-old was still alive, having endured such vicious wounds.
Stabroek News was told that she underwent emergency surgery before being admitted into the ICU.
Around the Web