Ex-members of the main opposition PNCR and the ruling PPP yesterday announced their support for the AFC, which signalled that it is in talks to get former PPP/C Minister Moses Nagamootoo on board as well.
Former health minister in the PNC government Dr Richard Van West-Charles and former PPP Central Committee member Rajendra Bissessar both endorsed the party at a press briefing at the AFC's headquarters, in Campbellville, where party leader Raphael Trotman confirmed that Nagamootoo was in talks with the AFC and that the former Information Minister would be guaranteed a "high place" should he accept their party's proposal.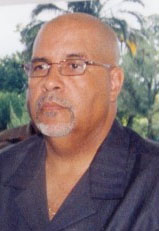 Nagamootoo, a popular long-standing member of the ruling party, was initially among those in the running to be its presidential candidate, but did not submit himself to the selection process, which he questioned.
He and the PPP have had deep-seated differences and he has been bypassed for ministerial appointments. Stabroek News tried contacting Nagamootoo yesterday for comment but was told that he was out of the country on business.
Giving reasons for his endorsement of the AFC, Van West-Charles said his choice was "guilt free" and he explained that he felt that it was time to move away from the ideologies of the PNC and move towards a party with vision for young citizens.
Van West-Charles, who returned to Guyana two years ago after an early retirement from PAHO/WHO, where he worked for 19 years, is the son-in-law of late former president and PNC founder Forbes Burnham.
He added that his vision coupled with his expertise in working for government and international organisations such as the United Nations bring much to the table for the AFC. "There comes a moment in the considerate decision of every sincere politician in which the interest of the nation and its future takes precedence over past political accounting, playing the blame game and personal interest; that time has come for me," he said.
At the same time, he stated that while many would note his link to the PNC as the son-in-law of Burnham, one should never allow associations to forever determine reasons for supporting a political party.
"Our historical political associations with political parties cannot be the single-most factor that drives the choice for a political party on Election Day," he said.
He noted that after his return to Guyana, he tried with the late Winston Murray to implement a plan for the PNCR, which included hard work engaging a cross-section of populace. The plan would put measures in place for economic and social growth of the country's youths, he explained. However, he said that the plan died with Murray and he was left to make a decision to join a party that would make the best decisions for Guyana's youths.
He said, "After his passing… the next best option was to ask: Which is the best political entity with the attributes of qualitative inclusiveness that is willing to represent the oppressed, disenfranchised and had the capacity to end ethnic marginalisation?"
He added that the country can only be developed to reach its true potential with the end of racial hatred and mistrust, an unhealthy political culture, corruption and nepotism, among other ills.
Meanwhile, Bissessar, who noted that he was once a "Jaganite," also gave his unwavering support for the AFC, while saying that he was "simply tired of corruption and mismanagement of the country and the handing out of resources to [PPP] favourites." He added that since the death of president Cheddi Jagan, he felt that most of his concerns were bypassed and as such he felt the need to leave the ruling party.
Explaining that he was a friend of  Nagamootoo, Bissessar stated that he has engaged Nagamootoo to join him in support of the AFC.
He further went on to state that he was privy to the fact that Nagamootoo will not be on the PPP/C slate at this year's elections and he was almost certain that he would join the opposition party.
"I want to believe that Mister Nagamootoo should and I think he may be considering that option but I cannot be definitive," said Bissessar.
Only recently, longstanding members of the PNC Joseph Hamilton and Gillian Burton publicly endorsed the PPP/C.
Around the Web