Pandemonium broke out yesterday morning after a speeding Route 40 minibus transporting 17 St Joseph High School students to inter-school sports flipped several times after being hit by a car.
Several witnesses said the driver of the minibus, BKK 3636, which was travelling along  New Garden Street refused to heed the stop sign and was hit by a car which was proceeding west on North Road. The minibus driver fled the scene after the accident while the conductor, who remained, was taken into police custody.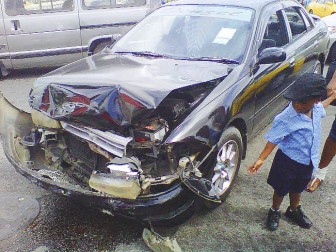 The children ranging in ages from 12 to 17 years were all rushed to the Georgetown Public Hospital with visible bruises and at least one was crying out for intense pain in the abdomen. A child from the car was also taken to the hospital. By late yesterday afternoon, all had been discharged, except for one girl who was awaiting the results of an x-ray. A hospital source said the injured arrived at the institution in two batches around 09:30 hrs. They were given priority treatment when they arrived at the Accident and Emergency (A&E) Unit.
One eyewitness, who was travelling behind the car on North Road, recalled seeing the minibus swerving around a taxi which had stopped at the stop sign to allow the oncoming traffic to pass. The bus, the eyewitness said, could not make it across North Road into Shiv Chanderpaul Drive in time and was hit at the rear.
The eyewitness said the minibus toppled at least two times before landing on its side. Persons who were around immediately ran to the bus and began assisting the screaming children out.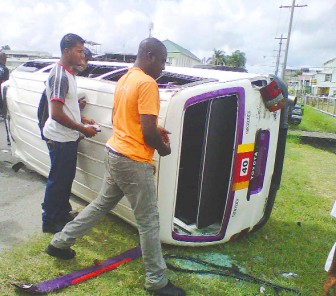 The occupants of the car escaped serious injury, but were very traumatized. An occupant, who gave his name as Leon, recounted to this newspaper that they were proceeding along North Road and saw that the taxi had stopped.
However, the bus, which was behind the taxi, drove around it and as it crossed over North Road, the car collided with it.
Meanwhile, the driver of taxi, HB 9264, who did not want his name published, was stunned at the action of the bus driver. He said he had worked all night and was tired but he knew there was a stop sign and stopped because he saw the car approaching.
"De minibus man couldn't wait though, because he swerve around me," the taxi driver recalled.
Teachers who were at the GCC ground where the children were headed ran to the scene on hearing the commotion.
A male teacher of the school was being consoled at the scene.
A woman also arrived at the scene distressed and after being assured that the children only sustained minor injuries left for the Georgetown Hospital.
Many on the scene expressed shock at the recklessness of the driver and one person even pointed out that more attention was paid to ripping off the bus's number plates than tending to the injured children.
Around the Web