The New Guyana Marketing Corporation (GMC) has launched the Market Enterprise and Information System to provide marketing services to farmers and other stakeholders in the non-traditional agriculture sector.
According to a Govern-ment Information Agency (GINA) press release, the programme will allow farmers, exporters, entrepreneurs and other stakeholders in the sector to access reliable and up-to-date information on crops, livestock, marketing and business plans.
In his address to stakeholders, Minister of Agriculture Robert Persaud said government is pursuing a comprehensive agriculture diversification programme and the new information system will complement its efforts by helping farmers to meet their full production capacity and boost the non-tradition export capacity.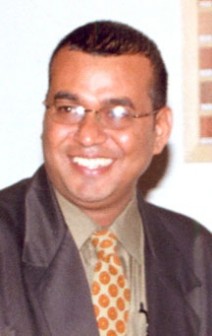 "Our Government doesn't just sit on achievements, we have made in transforming the non-traditional sector year after year and say everything is ok, but we continue to look at other ways and means to further improve the sector…since much more can be achieved in the commodity chain," he said. Persaud also recalled other initiatives the administration had taken to transform and modernise the sector such as extension services, value-added processing and good agricultural practices.
According to Persaud the nation can expect to reap the benefits of these investments in another five to ten years, "because the goal and vision is to have the non-traditional sector, fruits, livestock, aquaculture and vegetable, have them strong and economically relevant and robust as rice and sugar." He is also optimistic that within the next seven years the sector will become a key player in processing value-added products, though he cautioned that accessing cheap and reliable power is essential to realising these plans.
As such, "Government has invested in the hydro project…and those who are claiming that project is not feasible does not have a vision for Guyana."
GMC General  Manager,  Nizam Hassan said that the website www.newgmc.com will provide marketing services to stakeholders in the non-traditional agricultural sector.
He said farmers, agro-processors, exporters and other agri-business investors will find it to be a useful resource for information on proper post harvest handling, packaging, marketing, exporting and other matters.
Project Coordinator of the Agriculture Diversification Programme (ADP), Jimmy Bhojedat also lauded the system as a tool that will help the ADP to fulfil its mandate. "The Government of Guyana through funding from the Inter-American Development Bank (IDB) has been spending US$21M to build the agricultural export and diversification programme….with launch of this system one can see the tremendous emphasis by the Government to develop Guyana's agricultural thrust," Bhojedat said.
Agriculture Month is being observed under the theme 'Sustaining Food and Nutrition Security in Guyana,' GINA said. The enterprise and information system was launched as part of the activities set out for the month.
Around the Web