"I regret how my children died. I believe that he planned to do this. There were too many chops for it to have been unplanned [but] I didn't see signs of it," the mother of the three children who were brutally chopped by their father related yesterday, as she struggles to cope with the deaths of two of her three children.
The grieving 27-year-old Onica Blanchard recalled the horrible details of her last phone conversations with her husband John Blanchard, before and after he had committed the act.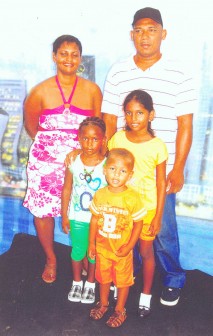 The woman said that on the night of the incident she had completed her work for the day and had just settled down to relax around 9, when Blanchard called and asked where she was. To this she replied that she was lying in the hammock, after which he asked where she had been and she responded that she'd been out to get a phone card to call home.
She said he then asked her why she lied to him; telling him that she was lying down when she went to buy a phone card and she had to explain again that she'd answered in accordance with his questions. Onica said the man went on to ask her if she "have another man and I said no. Then he ask me if I love him and I said yes I love you." The next thing he said to her was that he had killed the children.
Upon hearing this, Onica said, she "scream out and said 'John what did you do?'" But he laughed and said he was just joking. He then told her that the children were sleeping and he "just wanted to see what I would say".
Concerned that something was amiss in her Soesdyke home, the woman said, she called her mother Denise Trotman after ending the conversation with her husband and related what he had said. She asked her mother to go over to the home and see if the children were alright, but her mother said, "don't take on, he only joking".
Onica then called her husband and this time he told her that he "did it already. He said he done slit they throat; that it done happen and it can't change". On hearing this, she quickly hung up the phone and called her mother again and asked her to go over and check on the children.
Onica said she then called John again and he told her, "Daniel done dead and he said he slit Belica throat and he put her on the phone to talk to me… I heard her groaning… And then he said he will put his hands over her nose and mouth to let her go".
Trying to contain her grief, the mother said her husband then informed her that "'Joy still alive, she is the strong one'". She said even during and after all she heard from her husband, she still had some amount of doubt that he would do such a thing to the children.
The reality of the gruesome situation finally hit home, to a certain extent, when, some time after 11, Onica again called her mother, who, by then, had arrived at the home, and heard her "screaming and bawling down and she said 'Onica is true the children dead. He killed them fuh truth…'" and the phone went dead.
After hearing this, the shocked and sorrowing mother said she "just sat in the hammock and rocked myself and cried… There's nothing I could've done."
Onica and John have been together 12 years – lived together for eight then married for four. She explained that during the relationship, like any other couple, they had their disagreements and arguments, "falling out and making up", but said that most of the time he threatened her life and not the children's.
She said that only once did he state that he would burn down the house with them "and then he laughed so I never took it as anything serious.
He never showed any signs of doing this."
However, the woman said, there were times, during their relationship, when her husband showed signs of depression, "and me, being his wife, I would try to comfort him, talk with him, pray with him…" She said she also spoke with the man's siblings about his behaviour, but they paid her no mind.
She explained that in July of this year they had a "lil disagreement" which resulted in Blanchard opting to move in with his sister in Princes Street, but after some time they worked things out and he returned.
About three or four weeks back, Onica said, she had sent a text message to the same sister in Princes Street informing her, "this is the third or fourth time he (Blanchard) threatened to kill me and I can't take it no more and I'm going to make a report".
However, Onica said the sister again paid her no mind and as things between them settled again she did not report the threats.
When asked whether Blanchard's attacks might have been triggered by her leaving for Mahdia to seek employment, Onica explained, "we both agreed that business wasn't going so good and I would go into the interior and work. At first he agreed but then he called my mother, who, being a Christian, wasn't in favour of the move.
Then he came and told me that she said for me not to go. But on the night before I went in [October 5] he was in agreement."
She said that while there, she was approached by men, but from the inception she made it clear that "I'm a married woman and I came here to work and that's what I'm going to do.
And they respected me for that." She added that her mother would've never encouraged her having extramarital affairs.
When asked how she felt about the whole situation, the woman tearfully said, "I regret in one sense, but God knows what He does cause I could've been dead too. Cause is me he de want." She said the next move for her is to "be strong, focus on burying my two children and focus on Joy; live for Joy [her second child, who is injured but still alive]".
Denise, Onica's mother, who also spoke with Stabroek News, said she could not understand "why John would do such a thing. I love him.
He is just like my son, and my husband and I never denied him anything."
The woman said that Saturday last he contacted her and she encouraged him to attend church and to share his problems with the pastor, but he did not go. "I believe that if he had only gone to church he might not have done this," she said.
The children's mother said that October 23 would have been her eldest daughter's (Belica George) tenth birthday. She said that though not biologically related, Belica and her stepfather shared a loving father-child relationship. "Belica loved him.
All three of them loved him even when he went away she [Belica] kept asking when he coming back and when he called she would want to speak with him first." She explained that she met and entered a relationship with Blanchard when Belica was a year and eleven months old.
Blanchard, 30, attacked his three children on Tuesday night at their Soesdyke, East Bank Demerara home.
The attack resulted in the deaths of his stepdaughter and his 3-year-old son, Daniel Blanchard.
His other daughter, six-year-old Joy Blanchard, survived and is still on life support in the Intensive Care Unit of the Georgetown Public Hospital.
After he committed the acts, he was found by relatives as he was tying a cement sling to the rafters of the house to hang himself.
The man is expected to be charged today, following the post-mortem examinations on the children.
Around the Web