A police witness on Thursday testified that murder accused Cyon Collier, called 'Picture Boy,' was found with an AK-47 assault rifle when he was arrested by members of the Joint Services, days after he allegedly killed businessman Chandrapaul Persaud during a robbery.
Assistant Superintendent of Police Michael Kingston made this disclosure during testimony in Collier's trial before Justice Winston Patterson.
Kingston, who was part of the joint police and army group that arrested Collier on the morning of October 5, 2006, at a house at Lot 23 Bachelors Adventure, East Coast Demerara, said he was told by an informant that Collier and another wanted man, Anthony Charles, called 'Kussum,' were there. However, he said when they arrived at the house, Collier was found alone.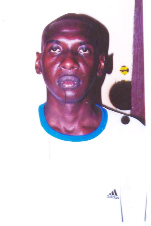 Kingston said Collier was confronted with the allegation that on September 30, 2006, he and two other men robbed Nazeema Ishaack of jewellery and $100,000 in cash and that during the robbery he had killed Persaud, known as 'Ravin' and 'Kero Man.' The accused was cautioned and Kingston stated that Collier then said, "Bossman me ain't been deh."
According to Kingston, Collier took him to a bedroom in the house, where he found the AK-47 Assault Rifle, a .25 Astra Pistol and 2 matching rounds of ammunition in the pistol. When he pulled out the inserted magazine from the AK-47, Kingston said he found 13 7.62 x 39mm rounds of ammunition. A Mossberg Pump Action Rifle was also discovered by a member of the search party, Linden Lord.
Collier was asked if he was a licensed firearm holder, to which he responded in the negative and he was then arrested and taken to the Cove and John Police Station, where he was placed in custody, Kingston added.
State Prosecutor Judith Gildharie-Mursalin, who led Kingston through his evidence-in-chief, asked him to explain the reason he asked Collier if he was a licensed firearm holder only after finding the pistol and not immediately after finding the AK-47. To this, Kingston explained that private citizens cannot be issued a licence for AK-47s, which are only used by military and paramilitary personnel.
Gildharie-Mursalin questioned Kingston as to whether he was able to ascertain if Collier was a military or a paramilitary member, to which he responded, "Yes, he was never apart of either."
Kingston said the AK-47 was marked with his initials and also Collier's, after which it was sealed and taken to Police Headquarters, Eve Leary for analysis. The weapon was tendered in the Magistrates' Court at the preliminary inquiry into the charge on December 14, 2007.
The court was further told that on the night of September 30, 2006, Kingston received information on the location of the getaway car, PJJ 1892, around 10pm. Kingston said he went to Paradise Factory Road, East Coast Demerara, in an abandoned rice mill compound and found the vehicle. He said he drove it to the Cove and John Police Station to be dusted for fingerprints.
Under cross-examination by defence lawyer Linden Amsterdam, Kingston said that he wore gloves when he drove the car to the station. He was asked if this information was included in his statement, and he said it was not necessary since while the car was dusted for fingerprints, the only ones lifted were smudged and not useable.
Amsterdam asked Kingston why the car was not left where it was until the next day, when it could have been fingerprinted. Kingston stated that in 2006, the area where it was found was very hostile and in order to preserve the vehicle it had to be taken immediately to the police station.
Meanwhile, Gildharie-Mursalin asked Kingston if he had known the owner of the house where Collier was found and he explained that after Collier's arrest, a "Mr Williams" went to the police station and indicated that he was the owner. The man had said that he secured his house and went to the interior to work. He later read in the newspapers that bandits were found in his home with weapons when police conducted a raid. Clothing and other belongings that were removed by the police were claimed by this individual.
The State Prosecutor further asked about 'Kussum's' whereabouts, after which the court was told that he died in the same East Coast of Demerara village during a shoot out with the police.
Kingston will continue to face cross-examination on Monday. (Frances Abraham)
Around the Web