Residents of Cummings Lodge and nearby communities on the East Coast Demerara are expected to benefit from improved water supply following the commissioning of a $101 million well station.
The new well station will serve Cummings Lodge and will also provide relief to many residents within sections of Sophia, including A, B, C, D and E fields.
Minister of Housing and Water Irfaan Ali told residents at a small commissioning ceremony yesterday at Cummings Lodge that the investment was crucial to the livelihood of the residents. He said he was pleased that some 15,000 residents of the area will benefit from the new station.
He said the authorities have completed more than 60 km of water lines while several well stations have been installed across the country. He also said that in the past five years, the number of pensioners benefiting from subsidized interventions made by the authorities had moved to some 70,000 as compared to 12,000 pensioners several years ago. Over the next five years, if elected, Ali said, the government plans to construct two state-of-the-art water treatment plants in the mining community of Linden worth $2 billion.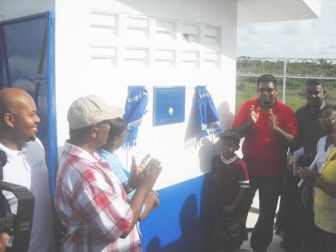 He said that a similar sum of money will be invested in the rehabilitation of the sewerage system in Georgetown.
Ali said too that the authorities also plan to dig some 20 boreholes across the country which will benefit some 60,000 persons, while adding that the government's general plan for the sector is to have more than 85% of the population benefit from treated water.
Residents told Stabroek News that the area has been at the receiving end of poor water service over the years and they noted that recently Cummings Lodge and parts of Sophia has experienced fluctuations in the delivery of water through the pipes. Many expressed hope that the new station will improve the water supply in the area.
The new well station was constructed via collaboration between the government and the Basic Needs Trust Fund (BNTF).The project was awarded to Nabi Construction Inc and was supervised by the GWI and Design and Construction Services Inc.
The new well has a depth of 234 metres and it also has the capacity to produce 162 cubic metres of water per hour, the GWI noted.
Around the Web