The Ministry of Agriculture Ministry and the Guyana Rice Development Board (GRDB) on Thursday launched two new varieties of rice for commercial cultivation that are expected to boost yields.
The two new varieties: GRDB11 (FG06-98) and GRDB12 (FG07-35) were developed by researchers at the Rice Research Station at Burma, a press release from the Government Information Agency (GINA) said. The new varieties have shown that they are high yielding and possess other traits particularly important for good crop establishment and weed competitiveness, such as the ability to emerge well from about four to six inches of standing water. Over a five-year period, they have been successfully tested in over 30 rice fields at varying acreages at various locations countrywide.
Minister of Agriculture Robert Persaud said he was pleased that the new varieties address yield because the current strains cultivated locally yield between 4 – 4.5 bags per acre. The two new varieties will yield about seven bags.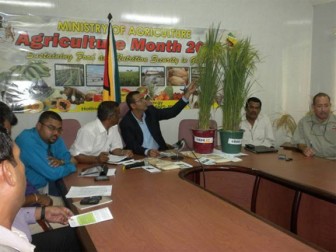 In commending the Burma station for launching the new varieties within such a short timeframe, Persaud said that government has invested about $100M per annum into the station and it will continue to do so based on the successful results.
The Burma station aims to develop high yielding rice varieties that can withstand the changing local cultivation conditions.
Persaud also said he hoped that farmers would utilise the two new strains and that they can recognise the benefits that can accrue.
"We cannot continue to grow one type of rice and hope the other markets will buy," he said, adding that Guyana needs to penetrate other markets and as such different farms will need to cultivate a variety of strains of rice to meet market preferences.
Plant Breeder/Chief Scientist at the Burma station Dr Mahendra Persaud said it is important to consider technology, competitiveness and the changing environment when developing new and more suitable grains. "Those varieties that were very good, ten years back don't seem to have a permanent place in this economic scenario and more so in the future," he said.
Around the Web