The sterile surroundings of the Linden Hospital Complex (LHC) glowed with colour recently when staff and visitors turned up in bold African prints as part of its observances for International Year of the People of African Descent.
Staff and visitors dressed in elaborate hats and head wraps and brightly-coloured dresses presented a visual treat for patients on Tuesday September 27, the day designated for African Dress. The initiative was the brainchild of Dr Kurt Stephenson and endorsed by the management as part of its efforts to improve relationships between staff, patients and visitors.
The day began with the ancillary department hosting a breakfast morning where they served each other pepperpot, bread and tea. An exhibition of African literature, craft and clothing was also mounted by the Region Ten Organizing Committee as part of its plans for the people of African heritage activities. Chairperson of the committee Jonathan Adams then gave a riveting address to the audience about the contributions Africans made to the Guyanese society.
The gathering was later treated to pulsating drumming from one of Linden's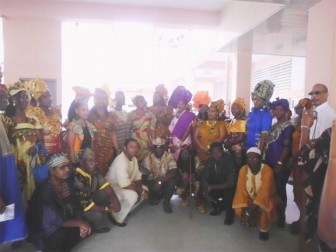 premier cultural groups Flame of the Heart, during an afternoon cultural session. The day culminated with a fashion display by members of staff where Winkworth Payne of the maintenance department was named the best dressed man and Helkah Velloza, Clinical Instructor attached to the Charles Rosa School of Nursing, was named best dressed woman. They were each given monetary prizes of $5,000.
Patrons of the event also got an opportunity to sample African cuisine such as souse, cook-up rice, pone, breadfruit pie, konke, shine rice and fried fish and sweets and beverages such as sugar cake and mauby.
The LHC management and staff extend gratitude to all the departments and individuals who helped to make the event a success.
Around the Web