John Blanchard, who is on remand for the hacking to death of his children, was yesterday morning rushed to the Accident and Emergency Unit of the Georgetown Public Hospital (GPH), after suffering injuries while in the Camp Street Prison.
Reports are that some time between 8 and 9 yesterday morning, Blanchard was taken to the GPH in an unconscious state following an alleged beating he received on Friday night in the prison. He was treated and subsequently returned to the Camp Street Prison.
When Stabroek News contacted Director of Prisons, Dale Erskine, who was out of town at the time, he related that from what he had been told, Blanchard was beaten by other prisoners. He said that the exact time of the incident and exactly who the perpetrators were was uncertain, but investigations are continuing into the matter.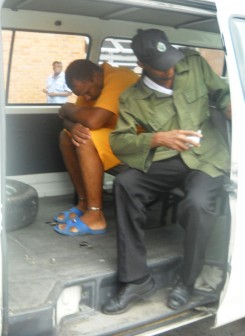 Earlier yesterday morning, the third child injured in the chopping incident, Joy Blanchard, succumbed while in the Intensive Care Unit. Her two siblings, 9-year-old Belica George and 3-year-old Daniel Blanchard both succumbed on the night of the incident.
Blanchard's wife Onica Blanchard had last week told Stabroek News that she believed the act carried out by her husband to have been premeditated. Blanchard has since been charged with the murders of Belica and Daniel and was to return to court on November 1. It is likely however that he will be making an appearance before that date, to be further charged with the murder of his six-year-old daughter Joy.
Around the Web