Some 77 of the over 100 newly-skilled youth and single parents who graduated on Friday from the National Training Project for Youth Empowerment (NTPYE) and Single Parents at the Essequibo Technical Institute (ETI), have already found employment.
This announcement was made when the Board of Industrial Training held its annual graduation ceremony for the students from various areas of Essequibo and the hinterland community of Kabakaburi. They are now skilled in work disciplines such as cosmetology, garment construction, catering, typing, mechanics, welding among others.
Noted too was that 15 graduates are pursuing further studies.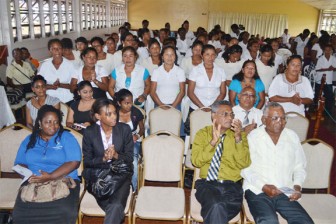 According to Coreen Connelly, Project Coordinator of NTPYE, an estimated 98% completion rate was seen among the 76 female single parents who joined the ETI.
Further, she stated that the graduates were not only given job training, but were also exposed to life skills education such as basic Mathema-tics, English, Micro-Enter-prise Training, Sexual Repro-ductive Health and HIV/ AIDS, which it is hoped will enable them to be equipped for the world of work.
According to Minister of Labour, Manzoor Nadir, who was also present at the graduation and voiced his satisfaction, the main initiative of the training was to ensure that unemployed and underprivileged youths are better equipped with life skills.
He added that the initiative which is aimed at reducing youth unemployment was the concept of President Bharrat Jagdeo and former education minister Dr Dale Bisnauth who implemented the project in 2005. Further, he explained that it was through programmes like these that government felt youths and single parents could be brought into the mainstream of society. Nadir also encouraged, mainly the single parents, to get involved in the Women of Worth (WOW) programme, which was set up to push female economic development.
"We have new opportunities that will come knocking at your door but it is up to you all to seize these opportunities," he said.
The minister stressed the need for them to strive to continue their education through various training. He said "You can't be satisfied with what you have achieved today, because in each and every one of you there's that El Dorado," he added.
One of the graduates, Ryan Cornett, who was trained as an auto mechanic, said the experience was a fruitful almost surreal one. He said, "I studied a lot; most of the work was practical which meant that I had to be very attentive and persistent to grasp the necessary things that were taught to me. To me studying at the ETI is like a home being way from home…The staff are very patient and encouraging they allow you as a student to be even more confident in yourself. My plan for the future now is to be one of the best mechanics possible. I want to pursue my degree."
Adelia Jonas, a single parent graduate of the EDI, related her experience as she pursued a diploma in cosmetology. She said "I have three children and I am now happy to know that with the skills that I have obtained I am now ready for the world of work. As a woman, it is good to be independent so my advice to other single parents, especially women, is to come and be a part of this programme and be as determined to be successful."
Another youth Rahda Narine who pursued Informa-tion Technology related that she had dropped out of school in form three. Upon hearing of the opportunity of having another chance to make the best out of life she enrolled at the ETI.
The young woman said she was grateful at having had a second chance to redeem herself educationally and that she will continue to further her studies. She said, "At one point of time I felt so bad about my self because I never got to do CXC and had to drop out of school. However with my mother's advice I joined the ETI. I have never had one day of regret. Now I can say goodbye to those days I felt bad about myself because I left school. Right now I am planning to write CXC and I am confident enough that if I can make it here, I can be successful anywhere else."
Around the Web