PPP/C presidential candidate Donald Ramotar is today likely to name Sam Hinds as his running mate for the upcoming elections, party sources have indicated.
The announcement is expected to be made today in Linden where the PPP/C is holding its third major rally. Hinds, who spent a significant part of his life in Linden, has served almost continuously as prime minster since 1992, when the PPP/C first assumed office. He served as president for a brief period following the death of President Cheddi Jagan.
In all the elections the PPP and the Civic have contested as an alliance, the PPP nominee has always been the presidential candidate while a Civic member has been the prime ministerial candidate. Ramotar had previously indicated that the ruling party was likely to stick to this arrangement going into the 2011 elections.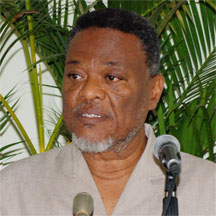 However, at a subsequent press conference he said candidates from both the PPP and the civic group had been shortlisted for the position.
Speculation has been rife for months as to who the party's prime ministerial candidate would be with several names being thrown into the fray. Among the names being put forward from the Civic were ministers Robeson Benn and Carolyn Rodrigues-Birkett. Public Service Minister Dr Jennifer Westford and Home Affairs Minister Clement Rohee were PPP members mentioned as possible candidates.
However, sources have indicated that Hinds is likely to get the nod as he is a "known face" with which the electorate could identify.
On Friday, PPP/C campaign spokes-person Robert Persaud, while announcing that the party's prime ministerial candidate would be revealed today, declined to say whether Hinds would retain the position.
Hinds is on record as saying that he is willing to serve. Recently, during the commissioning of a 15.6 MW expansion of GPL's Kingston Warstila Power Plant, he had indicated a willingness to continue to serve as a cabinet member in the next government.
Stating that he had been pleased to be presiding over the electricity sector during this time, Hinds said he hoped "maybe to continue taking our electricity sector to even higher levels".
Around the Web