The United States is still considering setting up a Drug Enforcement Agency (DEA) office here, according to Julissa Reynoso, Deputy Assistant Secretary for Central America and the Caribbean in the US State Department's Bureau of Western Hemisphere Affairs.
"It is something that is under consideration," Reynoso told Stabroek News in an interview last Thursday, where she also said that the US government's expects to up assistance to Guyana in security as part of its commitment to the Caribbean region over the next year.
In a 2006, former US Ambassador to Guyana Roland Bullen had made a case to Washington for the establishment of a DEA office here, warning that the level of narco-trafficking influence on the political, judicial and economic systems created ripe conditions for the emergence of a narco-state. Although government spokesmen have said they would welcome the establishment of a DEA office here, US Embassy officials based here, according to several diplomatic cables recently released via the whistleblower website WikiLeaks, raised doubts about the sincerity of government's commitment to combat drug trafficking.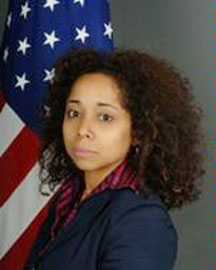 Reynoso led a 14-member US delegation here for the second meeting of the Carib-bean Basin Security Initiative (CBSI) Commission, to review progress ahead of the security cooperation dialogue in The Bahamas next month. The delegation included representatives from the State Department's Bureau of Western Hemisphere Affairs, the Bureau of International Narcotics and Law Enforce-ment, and other inter-agency partners, including USAID, the Department of Defense's Southern Command, and the Departments of Justice and Homeland Security.
According to Reynoso, the US's continued investment "is a sign that we have a good relationship with the Guyanese authorities," and she added that Washington expects to increase assistance to Guyana in security cooperation in the second year of the CBSI, which is a regional security partnership between the US, 15 Caricom member states and the Dominican Republic.
"We are confident we have a good partnership. Obvious-ly, we can always use more of a stronger partnership, but we think we have a fundamental there to build on," she said, while adding that the priority now is delivering on the support promised to Guyana under the CBSI.
Guyana saw US$3 million for the first year of the CBSI and Reynoso said that this went towards prevention programmes through USAID and maritime equipment. Guyana will receive riverrain patrol boats and related equipment next year as emphasis is being placed on greater coordination and control of border and maritime routes.
Under the CBSI, the US and participating Caribbean countries have agreed to undertake cooperative efforts to reduce illicit trafficking, advance public safety and security, and promote social justice. In Guyana, the programmes supported by the initiative are, among other things, aimed to increase maritime interdiction capability; increase the effectiveness of police and customs at ports of entry; combat money laundering and financial crimes; rehabilitate juvenile offenders; and support young entrepreneurs.
Reynoso explained that ongoing consultations, like the work of the technical working groups established by the CBSI Commission contacts at national embassy levels helps to ensure that funds are being channelled to the right places. "We know there are places that need more assistance than others, and we are trying to be as responsive to those specific needs as possible since we are not seeing the Caribbean as one homogenous space," she said. "We are trying to be as targeted and responsive as possible [and] that is why the feedback that we have is critical, in order to make this whole initiative a success."
When asked about the criticism that the funds allocated under the CBSI—US$45 million in the first year, and $77 million in the second year—are insufficient for the region, Reynoso noted that the security concerns in the region are not as "dramatic" as they were a decade ago—a state of affairs she credited to US investment in the region over the last two decades. Trafficking, she said, has actually decreased and it is now concentrated in Central America. "…So, although there might be countries seeing an increase in violence, it is not all drug-related, [and] the violence numbers are nowhere near the type of violence numbers we see in Central America and in Mexico," she explained, while adding that the regional partnership is intended to be "preventive" rather than "reactive".
"…We are trying to make sure the Caribbean has institutions in place to combat in any increase of drug-related activity," Reynoso said. "What we are trying to do with the Caribbean is to nip this in the bud; nip in the bud any potential for organised crime and other form of criminal activity before it gets to record highs or it becomes critical like we are seeing in Central America and in Mexico and how we saw it in the Colombia in the 90s," she added.
In addition to questions about the levels of funding to the region, there has also been criticism, including from the PPP/C administration, about the US's lack of attention to reducing demand and its unwillingness to review its policy on the deportation of Caribbean-born US residents. The US has been focusing on demand reduction and noted that there has been a decrease, Reynoso said, while noting that in the past year over $1 billions was spent in this area and to fight organised crime elements that have ties to other organisations in the western hemisphere. Addressing assistance in the reintegration of deportees into the society, she added that it is part of the CBSI's emphasis on rehabilitation and providing opportunities for persons who are at-risk, including young people who are vulnerable to gang involvement or individuals with a history of criminal activity. "We want to make sure that once they serve their time in prison, they are able to reintegrate in the society in a way in which they can contribute in a meaningful way," she said.
Concerns about assistance in resettling Caribbean-born US deportees is tied to brain drain in the region, which has lost human resources to the US and other developed nations. Reynoso suggested that the Caribbean Idea Marketplace (CIM) initiative, launched in June by US Secretary of State Hillary Clinton, would address this situation. The CIM is aimed at attracting US and globally-based Caribbean Diaspora entrepreneurs to develop and expand innovative projects in the region that will generate employment and economic growth.
Reynoso explained that from November, Caribbean nationals in the Diaspora could apply to receive funding for entrepreneurial projects in order to generate development and employment for people in the region.
"It's an effort to bring those most talented folks who have left places like Guyana back home or back to their parents' home and do some innovative projects here and bring some of their talents and skills-sets back into the country," she said. She added that the initiative is based on a similar one in Africa that sought to attract investment primarily from African-descended persons based in the US.
"We think we can copy that in a more successful way in the Caribbean," she said, "There are small countries, smaller regions to try and target and the Diaspora in the United States primarily, of the  Caribbean, is so big that you could do a lot with a couple of good ideas."
Around the Web