He said that he last spoke to the PPP parliamentarian about the issue about two weeks ago prior to Nagamootoo leaving for Canada.  "He said he has to give consideration to so many things (before making his decision)," Ramjattan told Stabroek News when contacted yesterday.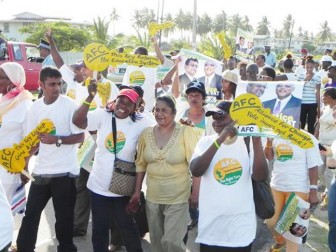 AFC leader, Raphael Trotman had told Stabroek News that it is up to Nagamootoo to decide whether he will accept an offer that has been on the table since 2006 to join the AFC. Trotman said he believes Nagamootoo can contribute to policy and social development in Guyana as the party heads into the 2011 elections. Trotman said that since 2006 and after, the AFC had indicated to Nagamootoo that there was a place in an AFC government for him
Ramjattan said yesterday that AFC supporters, including those at a meeting in Whim, Corentyne on Saturday, want to see Nagamootoo on board. "We're not pressing anybody…" said Ramjattan. "I would really appreciate it if he comes on board." He said that the PPP has treated Nagamootoo with "a lot of contempt" but even now is giving the impression that the attorney continues to campaign for them and that he will never leave the PPP.  "He will have to make his decision and I hope it is soon as possible," he said.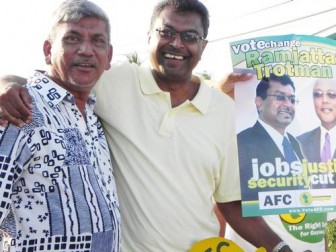 Earlier last week, former health minister in the PNC government, Dr Richard Van West-Charles and former PPP Central Committee member Rajendra Bissessar both endorsed the AFC at a press briefing at the party's headquarters and Trotman indicated that Nagamootoo was in talks with the AFC and said that he would be guaranteed a "high place" should he accept the party's proposal.
Trotman had said the AFC is not asking Nagamootoo "to give up his PPPness" saying that he is being approached because of who he is and what he can bring to the party. The AFC leader suggested that the former information minister could play a key role in bridging the racial divide in the country and in bringing a sense of continuity.  Trotman said it is clear that currently Nagamootoo is not in favourable standing within the PPP.
Several efforts by this newspaper over the past few days to contact Nagamootoo were unsuccessful.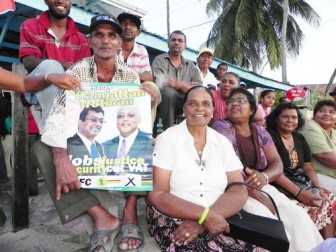 Nagamootoo has been a senior member of the PPP since 1976 when he became a member of the party's Central Committee. He was subsequently elevated to the Executive Committee in 1978, where he served continuously until 2005. He was one of the highest vote getters in the party's 2008 Congress but was not selected to the party's Executive Committee. Nagamootoo, who has been a member of the PPP since 1961, had indicated an interest in becoming the PPP's presidential candidate but withdrew from the race after his call for the wider membership of the party to have a say in this process was ignored.
Meanwhile, in a press release yesterday, the AFC said that more than 600 cane cutters, small farmers, civil servants, teachers and others marched on Saturday from Port Mourant to Whim on the Corentyne Coast.  At Whim, the marchers were joined by another 600 who had gathered for the planned public meeting, the AFC said.
It said that throughout the march there were shouts of "we want change", "we want change now", "Nagamootoo coming… how about you", "PPP must go" and other slogans.  The march was led by Ramjattan, Dr. Richard Van West Charles, Dr. Veerasammy Ramayya and other regional executives of the party.
Around the Web