A second boat is now plying the waterway between East and West Berbice, but concerns still abound over the safety of the transport.
The privately-owned 'Shanti' began operations a few weeks ago, after the dedicated vessel for the route, 'Alford C,' suffered an engine failure.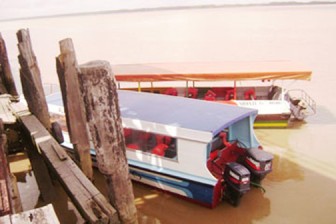 According to a source, the owner of the 35-seat vessel is supplied with gasoline from the Transport and Harbours Department, and is paid per trip, and not according to the amount of passengers transported. As a result, the vessel will cross the river as often as possible, "even with just seven passengers at times."
"The thing is a lil hustle.  It's touch and go. The more trips the boat mek is the better for the captain. He ain't looking for how much passengers. He looking for how much trips he mek, as it's all about the dollar," observed an onlooker.
There are also concerns about the safety of the vessel. Stabroek News was informed that while the vessel is fitted with two outboard engines, only one is functional. Additionally, the boat is without lights, resulting in the cancellation of trips during the late afternoon hours.
Said a student, "I still need the ferry, I feel safer. I have my future ahead of me. I don't want an untimely death. With the new speedboat, we are ferried across faster. There is not a backlog of passengers, but I need to be safe."
However, since the boat has been plying the river, some commuters have expressed relief, while noting that the hassle to access the lone 'Alford C' has been reduced. However, concerns were raised about breakdowns. Residents are however still calling for the return of the ferry to the crossing.
This publication was told that whenever there is a malfunction of the vessel, commuters are forced to travel over land via the Berbice River Bridge, which means additional cost.
Around the Web