Four months after the lifeless body of physically-challenged Abdul Azeem Haniff was found stuffed in his Mon Repos septic tank, the case has gone cold but  remains open as the police have received information that he was linked to stolen property. This has led to the conclusion that the gruesome act might have been committed by a "client".
Crime Chief Seelall Persaud recently said that a lot of people have been questioned. He said that the "only thing that they are getting is that the man has links to stolen property", a statement that a relative has accepted as genuine pointing out that in the past persons had accused Haniff  called 'Panjax' of having their stolen property.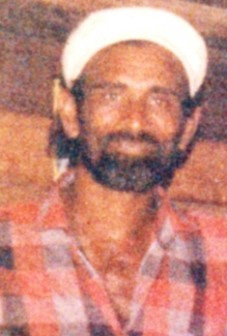 Persaud explained that the man might have been killed by someone he was in business with before, pointing out that police have gotten no new information "for a while now".
"The investigation is still open. It is not officially closed", he pointed out.
According to Haniff's brother Alim, he has heard nothing as of recent from the police. The man said that he is not surprised at this as there are lots of murder cases that have gone cold.
He said that because of his brother's state – he was paralyzed from the waist down and walked with the aid of crutches – he was unable to work. As such he started a buying and selling business which included birds, cows, sheep and goat about 20 years prior to his death, stressing that that was the man's only means of livelihood. He said that his brother was well known at the Beterverwagt-ing Police Station as persons often went there to complain that Haniff was in possession of items that were stolen from them. "People have accused him of buying stolen property", he added.
Alim said that "de police understand that he don't go and steal these stuff". He added that it could be true but expressed doubt that Haniff would have known he was buying stolen items.
He noted that his brother was never arrested by police in relation to the allegations that were made. "People were just pointing fingers", he explained adding that people would sometimes visit Haniff's Mon Repos, East Coast Demerara home at all hours of the night to sell stuff to him.
Asked about motive, Alim said that all that comes to his mind is that someone had taken something from someone and did not pay for it in time.
He told this newspaper in a recent interview that he often thinks about the incident and he has concluded that this is a "strange case".
The man expressed belief that the perpetrators will never be caught since they committed the act under the cover of darkness and ensured that they destroyed all evidence by setting the house on fire after strangling Haniff and dumping his body in the septic tank.
More than one person
He stressed that more than one person had to have been involved in the murder as Haniff weighed more than 200 pounds. The man stated that the killers were seemingly not satisfied with strangling Haniff in his bed  so they dumped him in the septic tank located at the back of the house.
He expressed the view that the neighbour did not hear any strange sounds because music might have been playing in the house at the time. He explained that because of the man's condition, he would rest a lot during the day and it would be hard for him to sleep at nights. According to Alim, not only would he be playing the music at nights but he would also turn off the lights sometimes.
"It could be that the music playing at that hour and that woulda drown out his scream", he stressed.
The man recalled visiting his brother's house where, Haniff's daughter now resides with her family, and "everything just come back to me…Dem killers know themselves so they gotta live with dat".
Case cold
In a sombre tone he said that his hopes of the killers being caught are over as too much time has passed.  "I ain't keeping my fingers cross because it (the investigation) taking too long", he added.
Haniff's sister Bibi has also apparently given up hope. She like Alim pointed out that a lot of time has passed without any information surfacing.
She recalled that sometime around midnight on June 28, she was awakened by shouts of fire. She said that when she peeped she saw fire through a side window in the yard. The woman said that a man was already in the yard and others were jumping over the fence. She said that she later provided residents with a hammer which was used to break open the front door and also to break the padlock on the front gate.
Bibi recalled that residents formed a bucket brigade and managed to quell the blaze. She said that persons later told her that the man was nowhere to be seen in the burnt building. She said that later the police were informed of the situation and while they were all standing up in the yard someone suggested that they look in the septic tank. It was then that the startling discovery was made.
Based on the information gathered, the perpetrators entered the home of Haniff through a back window. After strangling him they dragged him to the septic tank, threw him inside and covered the lid. He lived alone.
It would appear that they then returned to the house, locked back the doors and set the bed and two sofas on fire before exiting through the same window.
They then escaped by jumping a fence. There are surveillance cameras on a nearby house and it is still unclear if police have made attempts to view any images it might have captured.
Female suspect?
Days after the discovery, relatives had told Stabroek News a woman whom he was friendly with appeared to be the key to this mystery. However the crime chief stated that he was unaware of any woman being sought in connection with the case.
The woman disappeared after the murder.
Haniff's daughter, Nafeeza had said that she had left the woman at her father's place around 16:30 hrs on June 29, the day before the body was found.
She said she did not know the woman or her name and that that was the first time she had seen the woman.
Nafeeza recalled that just before she left her father's house the woman asked the man for $500. "Man you gon molest meh because meh daughta deh hey", she recalled the man saying to the woman, who just laughed in response. Apparently Haniff had been friendly with the woman for some time. There is information that she vends somewhere in downtown Georgetown.
Around the Web