Several persons were left homeless following an afternoon fire at Annai in Region 9 (Upper Takutu-Upper Essequibo) yesterday which was caused by embers from a nearby garbage heap
According to reports, Central Annai resident Deroy Milton, who lives close by, lost his home and two other buildings from which he and his wife operate a cassava mill. The community's main marketplace which was housed in two thatched roof buildings was also gutted during the blaze. No injuries were reported.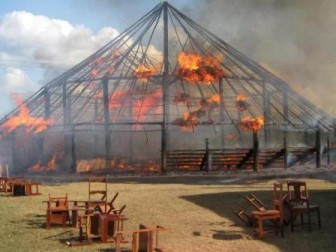 Annai resident Phyllis Joseph told Stabroek News today from the community's village  phone that the fire began sometime around 3:45 pm yesterday while a woman in the area  was burning garbage. She said that a piece of paper from the garbage heap "fly up in the air and it land on the benab and by the breeze was  blowing..it start spread". She said that residents attempted to save the benab but she noted that the fire was too much, adding that within the space of five minutes all five buildings were ablaze.
Joseph noted that residents at the savannah community made desperate attempts to save the buildings but only managed to salvage pieces of furniture, clothes and other valuables from the burning buildings.
She said that Milton and his family, including his five children suffered major losses "except for the clothes them had on and some furniture". The man's cassava mill was his main source of income, she noted. While she could not provide an estimate Joseph noted too that several persons who operate businesses at the market suffered losses.
According to Joseph, the regional authorities, including the District Development Officer, Carl Singh, met with residents today to discuss plans for assisting those affected by the fire. Regional Executive Officer of Region Nine, Ronald Harsawack was also expected to visit the community today to speak with residents, this newspaper was told.
The benab, which was built close to a decade ago, is a familiar sight at Central Annai and the facility is used to host village meetings, workshops and other events in the  community. Reports are that plans are already in the making to rebuild the landmark.
Around the Web