A Partnership for National Unity (APNU) Presidential Candidate David Granger announced a "one laptop computer per teacher" project to be pursued under a prospective APNU administration, during a four-day visit to the North Rupununi from October  14-17.
Meeting residents at Annai, Aranaputa and Surama, Brigadier (ret)  Granger promised "one laptop per teacher", a press release from APNU said.
This project would ensure that every teacher in Guyana will be given a computer to assist in research and teaching assignments from the time he or she enters the Cyril Potter College of Education, the release stated.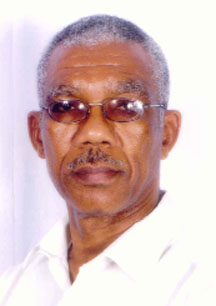 Granger was accompanied on his visit by The United Force (TUF) leading executive  Muacir Baretto and Guy-ana Action Party (GAP) representative  Vincent Henry and PNCR Vice-Chairman, Dr. George Norton.
Granger, Barretto and  Henry in all of the meetings emphasised the importance of reforming the education system and retaining trained and qualified teachers to improve education standards countrywide.
Granger is quoted in the release as saying that, "Education is the key to reviving the economy, to providing jobs and to ensuring empowerment of the residents of the Rupununi Region and improving the teaching profession is the key to education renewal. Giving teachers computers will help them to enhance the delivery of education."
According to the release, residents in all the villages expressed concern about poor communications and costly transportation.  Granger lamented the fact that a combination of the recent floods, chronic governmental neglect and poor maintenance contributed to the deterioration of roads and bridges connecting most villages. The road to Karasabai and Tiger Pond, for example, had become dangerous to traverse and near impassable in many places.
Granger also committed the opposition coalition to completing the Linden-Lethem highway. Improved infrastructure, he said, is essential if the Rupununi Region, Guyana's largest region that is bigger by far than Costa Rica,  is not to be cut off from the rest of the country again as happened earlier this year during the great flood.
The Linden-Lethem highway will lower the cost-of-living to the residents of the Rupununi, expedite the delivery of farm products to markets on the coastland, stimulate the economy and integrate this vast region with the rest of the country more fully, the release noted.
The visiting party  also heard residents  complain  about land demarcation and  Granger declared that APNU was "committed to consultation and collaboration" and was determined to end the pointless politics of confrontation on the land issue.
He gave the assurance that an APNU administration would examine all legitimate claims for changes and would work towards arriving at consensual solutions with the indigenous communities, the release concluded.
Around the Web