After weeks of delay, A Partnership for National Unity has picked Working People's Alliance Co-leader Dr Rupert Roopnaraine, 68, as the running mate for its presidential candidate David Granger.
While there has been no formal indication of this decision by the opposition coalition, reliable sources have indicated that Roopnaraine has been identified following recent deliberations on the matter.  Roopnaraine has long been considered the front runner for the post but party insiders indicated to this newspaper that there were concerns about having two sexagenarians heading the party's ticket. However, Sunday's announcement by PPP/C presidential candidate Donald Ramotar that Samuel Hinds would be his prime ministerial candidate put these concerns to rest, this newspaper understands.
APNU had identified the "CEGGGO principle": Competence, Ethnicity, Gender, Generation, Geography, and Occupation as the criteria for the selection of its prime ministerial candidate.
Roopnaraine became a member of the Working People's Alliance (WPA) and later became one of the party's co-leaders in 1979, a position he still holds. A former University Lecturer, he has a PhD in Comparative Literature from Cornell University. He served as a Member of Parliament for the WPA from 1995 to 2000. During this time, he has served as a member of the Commission to review the Guyana constitution.  He is the father of two.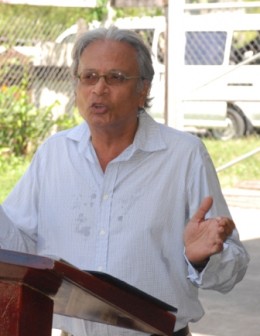 Around the Web