A collision between a motorcycle and a car last evening around 8:30pm at the junction of Middle and Carmichael Streets left two  policemen injured and they were up to press time at the Georgetown Public Hospital receiving medical attention.
Carlson Europe, 20, of Lot 33 Friendship, East Coast Demerara, was riding the motorcycle at the time of the accident while 22-year-old Oral Venture of 168 1 Mile Extension, Wismar Linden,  was the pillion passenger.
According to eyewitnesses, the two were approaching Middle Street at a fast rate and failed to stop at the junction.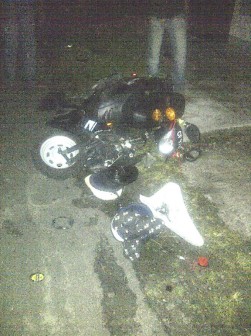 "These two men like they thought they coulda beat this car because I was riding closely behind them and although my bike faster than they own I say let me stop because this car got the right away," one source stated.
As a result, the motorcycle CF 9765 smashed into the door of the car's passenger seat.
An eyewitness further noted that while one of the motorcyclists was pitched some 15 feet away along Middle Street the other was flung across Carmichael Street. The driver of the car was unharmed.
When this newspaper arrived at the GPH, the two injured men were in the Accident and Emergency Unit. Shortly after, one of them was rushed to have a CT scan done.
Around the Web