Valerie Garrido–Lowe yesterday vowed to resist attempts to oust her from The United Force (TUF), saying that she is still leader until party members decide otherwise.
Although the Full Court on Tuesday dismissed an injunction that restrained former party leader Manzoor Nadir and party chairman Ismail Muhammed from performing leadership functions, Garrido-Lowe said it did not mean that Nadir was automatically re-installed as leader. An angry Muhammed yesterday said that Garrido-Lowe had no mandate to perform the functions of leader of TUF. He said that the resolution passed on September 1 by executives meant that she could not make decisions on behalf of the party.
"The courts let this matter to rest with the party to decide within itself what is to be done," she told reporters yesterday at Unity House, in the city, where tempers flared between her backers and supporters of Nadir who sought to eject her from the premises.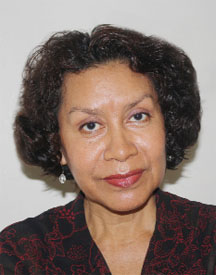 Garrido-Lowe added that she is the elected leader of TUF according to the party's constitution and argued that another membership meeting of the party has to remove her from the post. She added that she will continue to carry out her mandate as leader and presidential candidate of the party in this year's regional and general elections. "I am not going to put my tail between my legs and run away," she said.
Garrido–Lowe noted that the party is carrying out its elections campaign under her leadership, while noting that her supporters and party members are in the fields preparing for nomination day next week. "Some regions are almost finished and we have to get our plans underway for nomination day," she explained. She said that she was willing to engage the opposing faction of the party, once they have respect for the leadership and for the party to carry out its work.
She added that the majority of the party executives support her leadership. Rudolph McPherson, a party executive who has been a member since 1969, said that he never envisioned the party having a leadership crisis. He said that Garrido-Lowe was elected party leader when Nadir stepped down from the post. "No one can change that until an AGM [Annual General Meeting] is called by the party," he said. He added that the actions of Nadir and his supporters are not in keeping with the party's constitution, while noting that the party leader—and not the chairman, Muhammed—and executives make decisions.
Late yesterday afternoon, Ian McPherson, who said that he worked with Nadir, showed up at Unity House to "remove" Garrido-Lowe from the building. Garrido-Lowe remained at Unity House late yesterday and she and her backers were removing equipment and documents from the premises. According to Rudolph McPherson, the party has been in touch with other executives and party members around the country, including Linden and in the hinterland, and "no matter where we the supporters of Ms Garrido–Lowe and TUF operate from, we will stand up independently as a united party that is independent."
Nadir, who showed up at Unity House, told members of the media that after the party executives, led by Muhammed, passed a resolution on September 1 to remove Garrido-Lowe as leader, he was asked by the executives to hold on to the position until a decision was made on the way forward. He said that this was being done yesterday.
He added that he did not wish to be leader of the party or to lead it into this year's elections. When questioned about his commitment to the party, since he has been on the campaign trail outfitted in the garb of the ruling PPP, he said that he was doing so "as Manzoor Nadir and with strong commitment to these folks here who sit as executives."
Asked whether he was selected as a candidate on the ruling party's slate, Nadir noted that he was not offered any position within the ruling party's structure. In the same breath, he added that "I have said to Mr [PPP/C candidate Donald] Ramotar that he has my full backing in this year's elections." He recalled that in the last general elections, TUF's executives had supported him in occupying the post of Tourism Minister under the Umbrella of the PPP/C.
Several supporters of the party who travelled from the Barima/Waini area, in Region One, noted that they were supporters of Garrido-Lowe and would continue to support her in the run up to the elections. They noted that the party is known to be peaceful and one of them observed that "this whole action by Nadir and his bullish way is to get the TUF support to give to the PPP." She said that the party will continue to receive her support as well as the support of her village of Koriabo and she reiterated that "Nadir should get out of the party affairs and leave the TUF to go into the elections by itself."
Other supporters and members of the public who stopped by to get a glimpse of the situation offered similar sentiments. "Peter D'Aguiar turning in he grave right now because of what going on here today with a rightful leader  getting fight down for the post she will win votes for the party with," one of them noted.
TUF has been in a leadership crisis for several weeks and Garrido-Lowe vowed to operate as leader of the party despite opposition from Muhammad and other party executives. The row between Garrido-Lowe and Muhammad stemmed from the former's move to have Nadir vacate TUF's seat in Parliament.
Around the Web