By Marcelle Thomas
The Georgetown Public Hospital (GPH) has defended surgery done on a young woman who checked into the hospital with `labour' pain but which was later discovered to be a false pregnancy and reportedly the first of its kind at the hospital.
The hospital issued a statement yesterday stating that 18-year-old Althea Lewis had endured a rare disorder called pseudocyesis or false pregnancy, in which women exhibit symptoms of pregnancy such as absence of monthly periods, morning sickness and weight gain among others, but are not pregnant. The hospital also alleged that because Lewis was not forthcoming to staff about her pregnancy history, a laparotomy, and not a caesarean section as Lewis claimed, was performed in an effort to prevent a potential life threatening situation. (A laparotomy is a surgery that opens the abdomen to treat certain health problems and conditions.)
In an interview with this newspaper, the 18-year-old said that she had noticed irregular menses beginning inFebruary of this year some time around March or April, she joined the East La Penitence Ante Natal Clinic.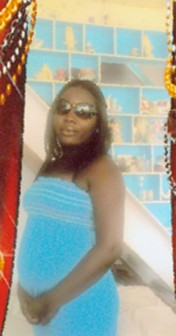 She said she was there for "a few months" but subsequently joined another clinic. When asked the reason for the change, Lewis replied, "There I did not feel too comfortable with they always give different things and were sending people steady to Georgetown Hospital."
According to the GPH however, records show that Lewis was told at that clinic in May that she was not pregnant and that was the last time she went there. A senior medical person at the East La Penitence Clinic told Stabroek News that Lewis's move to another clinic was likely triggered by the fact that she did not get a favourable response to her claim of being pregnant.
"We told her here she was not pregnant and the girl did not believe… she never returned. It is only now we are hearing that she joined another clinic," the official said.
Conflicting
results
The GPH said records indicate that Lewis then joined another city antenatal clinic and readings there show conflicting results of a pregnancy. "Investigations done revealed that Ms Lewis had six clinic visits at one health centre… There was no foetal heart sound. The patient was advised on several occasions that there was no pregnancy." Further investigations revealed that an ultrasound was done on September 22, at a private institution and that showed that there was no baby.
Lewis told Stabroek News that when she joined the North East La Penitence Clinic on July 19, this year, and gave nurses the date of her last period, she was told that she would deliver her 'baby' on December 2. She was never asked to do a pregnancy test, but on seeing her enlarged stomach the clinic required that she undergo HIV and other tests which she complied with. She said she had three other monthly visits and on her last visit on October 11, she was told by nurses that she and the baby were fine and to adhere to a balanced diet and obtain adequate rest.
Thursday of last week, she said, as she went about her normal daily routine of cleaning some time in the afternoon she noticed "spotting". The woman said her mother advised her to check herself into the GPH, which she did. It was then, she said, that "total confusion" began.
"I checked in and a nurse checked me. After this she told me… I was not bleeding heavy but [needed] to rest and that I should not be walking around," Lewis said. She added that she called her parents to deliver personal effects for her and some time around midnight, she was told by the examining doctor that no baby heartbeat could be heard.
She said that at this time she was in excruciating pain.
The woman said that a nurse explained to her that her baby was in a breech position and she would require a caesarian section. She added, "they went write up a form and tell me to sign it and then take me to the theatre."
Lewis explained that as she emerged from the anaesthesia, she overheard hospital staff saying, "This is the first time we see something like this". She said a little later she asked an on-duty nurse the whereabouts and sex of her baby and was told by the nurse that although she should not give out any information, she had birthed a baby boy.
Adamant
She said she then went to back to sleep and later in the morning awoke to the two performing surgeons over her bed. She said they explained, to her surprise, that she seemed to have experienced a somatic pregnancy.
She added that they were also adamant in not discharging her from hospital until she had been counselled by an expert in an adjoining building. However, she and her parents refused since they felt hospital staff were not forthcoming with information and in their estimation could not give good enough reasons why the young woman had a surgery she did not need.
The GPH's statement coincided with much of Lewis's account except for the nurse informing her of a baby. The hospital defended the laparotomy as the hospital's way of trying to prevent a morbid situation from occurring since medical personnel believed that maybe the child had died in her. The statement said: "The last routine check showed that the patient was increasingly in intense pain; there was increased maternal bleeding and difficulty being able to pick up a foetal heart rate… These were all indications of a potential life threatening situation to the mother, one which suggests that 'a baby' was in distress." It added, "Coupled with these circumstances, was the fact that the hospital staff had no pertinent information about the patient's history at their disposal. The situation therefore warranted immediate surgery in order to preserve the life of the patient."
The hospital stated that the patient consented to the surgery and after it was revealed that the woman was never pregnant, officials sought private discourse with her and her family to discuss her condition. Counselling was offered, but was refused.
Counselling
Hospital Public Relations Officer, Alero Proctor, told Stabroek News that should the girl or her parents change their minds about counselling, the hospital would willingly accommodate them since this case of pseudocyesis was the first ever in the hospital's history.
Contacted, a prominent private city obstetrician/gynaecologist informed that from medical records reviewed, the woman was given conflicting reports by medical personnel at the last city clinic she joined. He stated that even experienced OBGYs as himself are sometimes fooled by the condition since it presents with seemly normal pregnancy symptoms. However, he feels surgery could have been avoided if the hospital had a certified obstetrician and midwife always on duty instead of the many "young inexperienced nurses".
The doctor explained that the nurses, due to lack of experience listening to foetal heartbeats may have heard an echo of Lewis's pulse or heart and logged it into the medical charts as the 'baby's'.
"This case is unique but not unknown," he said. "One in every 22,000 women will experience this but with proper ultrasounds and foetal heart rate checks would find out early that it was just a false pregnancy."
He added, "While global researchers are still trying to find out the exact reason for somatic pregnancies many have indicated that it has a very strong psychological link. A woman may want a baby so much that she experiences all the symptoms including sometimes lactating. It is a condition that needs addressing in Guyana so that women do not feel that they are weird…"
In Lewis's case, he said, maybe because of the time factor other tests were not done… but I feel that having an experienced obstetrician on duty may help prevent unnecessary surgeries… It is indeed a sad case because she is now left to live with not only the surgical scar but of the psychological effects…"
Around the Web