After weeks of delay, A Partnership for National Unity has picked Working People's Alliance Co-leader Dr Rupert Roopnaraine, 68, as the running mate for its presidential candidate David Granger.
While there has been no formal indication of this decision by the opposition coalition, reliable sources have indicated that Roopnaraine has been identified following recent deliberations on the matter. Contacted last evening, Dr Roopnaraine declined to confirm whether he was the party's prime ministerial candidate saying that APNU will make an official announcement today during its press briefing.  A full leadership team is also expected to be unveiled today at the party's press briefing.
The party's move comes ahead of Nomination Day which is set for next Thursday.  Nomination Day is when parties contesting general and regional elections have to submit lists of candidates to the Chief Election Officer.  While the identification of a prime ministerial post is not a constitutional requirement ahead of the submission of the list, political parties have traditionally identified their prime ministerial candidates beforehand.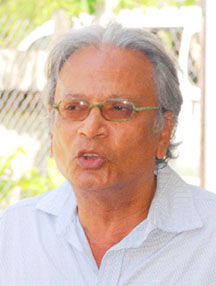 Roopnaraine has long been considered the front runner for the prime ministerial post but party insiders indicated to this newspaper that there were concerns about having two sexagenarians heading the party's ticket. However, Sunday's announcement by PPP/C presidential candidate Donald Ramotar that Samuel Hinds, 68, would be his prime ministerial candidate put these concerns to rest, this newspaper understands.  Ramotar is days shy of his 62nd birthday.
Granger, 66, had publicly stated that he favoured a female prime ministerial candidate citing the need for a "balanced leadership". He, however, insisted that whoever was to be selected should be a consensus candidate."We have adopted the convention that whoever is named must be by consensus…," Granger told this newspaper a few months ago. APNU had identified the "CEGGGO principle": Competence, Ethnicity, Gender, Generation, Geography and Occupation as the criteria for the selection of its prime ministerial candidate.
In July, a source had indicated, that the leadership team for A Partnership for National Unity (APNU) would include candidates for prime minister, deputy prime minister and vice presidents and that Roopnaraine was set to be one of the vice presidents. According to the source, this would not have prevented Roopnaraine from being considered as the coalition's prime ministerial candidate.
As APNU's chief political strategist, Roopnaraine has played a major role in the party's campaign thus far.  He was the feature speaker at the party's rally in Linden on Saturday in the absence of Granger.
Roopnaraine has decades of political experience; becoming a member of the Working People's Alliance (WPA) in 1977. He later became one of the party's co-leaders in 1979, a position he still holds. A former University Lecturer, he has a PhD in Comparative Literature from Cornell University. He served as a Member of Parliament for the WPA from 1995 to 2000. During this time, he has served as a member of the Commission to review the Guyana constitution.  He is the father of two children.
Around the Web