Minister within the Ministry of Finance, Jennifer Webster,  told a climate change and development for Africa conference this week in Ethiopia that while there is need for a legally binding international climate treaty, progress to date remains bleak, and there are also serious problems with climate finances.
Webster, who was representing President Bharrat Jagdeo at the first annual Conference on Climate Change and Development for Africa in Addis Ababa, Ethiopia, scheduled from October 17-19, declared that such a treaty is "the only way to legitimately balance the obligation to fix the legacy of the past with the opportunity to participate in the green economy of the future."
However, according to a copy of Webster's address at the conference, she  highlighted another significant issue in observing that there are big problems with climate  finances. "We are nearly in the final year of the so-called Fast Start Funding period – yet virtually no funding has started, and it is certainly not fast."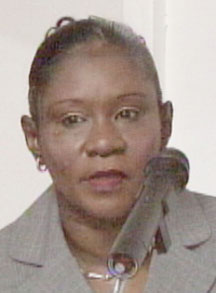 This, she emphasized,  is deeply worrying for three reasons, all of which have to do with the "development first" perspective of this event.
She pointed out that without the at-scale flow of finance that was promised, developing countries are limited in their ability to pay for action on climate change, whether to deal with adaptation or mitigation.
Chokes
Webster also argued that the problem with finances is "blocking the emergence of new clean industries and technologies in Africa and elsewhere at the scale we need. This chokes the innovation and creativity that Africa and other parts of the developing world can provide."
Moreover, the Guyana representative also contended  that "funding is arguably the most important one: the absence of climate finance is seen by much of the developing world as proof of insincerity  on the part of the developing world. And this is extremely damaging for our prospects for global agreement in Durban and beyond."
Webster also told the conference which was attended by the UN Under Secretary General and Executive Secretary of the UN Economic Commission for Africa, Abdoulie Janneh, that often developed world leaders  think that the finance is flowing, but  "from the perspective of developing countries, the money hasn't arrived because it remains with middlemen at international agencies who are charging fees and corroding the overall amount of the money."
Therefore, she asserted,  solving the problems of Fast Start-Funding and making sure the Global Green Fund work for the longer term is hugely important.
"In Guyana, we strongly believe that if we can fix these problems alongside our work on a legally binding treaty, we can transform the environment for climate-friendly development across the developing world," Webster told the three-day  conference.
It is expected that by bringing together policy makers, academics and practitioners, the conference would come out with concrete proposals on how to integrate climate change concerns into existing and future development policies, strategies, programmes and practices in Africa.
Webster, citing the Guyana experience, said that at the core of this country's five-year agreement with the Government of Norway is Oslo's commitment to Guyana to pay US$5 per tonne for the climate services provided by our rainforest.
Transition
"At a total of a quarter of a billion US dollars this is now the world's second largest operational REDD+ deal, and represents one of the largest flows of climate finance anywhere in the world."
Moreover, Webster  noted that Guyana is seeking to do more than just protect its  forest.
"As Norway pays us for the climate services the forest provides, we are using this revenue to invest in our transition to a low carbon economy. Our plans to achieve this are set out in our Low Carbon Development Strategy which was put together after a national consultation involving over 10% of our population."
She explained that based on this strategy, within the next five years, Guyana will use some climate finance to catalyse  private investment in clean energy to eliminate about 92% of its  energy-related greenhouse gas emissions.
"We are distributing 11,000 solar panels to indigenous household to give over 50,000 people in indigenous communities and other remote areas access to electricity for the first time. We are establishing an Amerindian Development Fund to address specific social and economic needs identified by our indigenous communities," Webster informed the conference delegates.
Centre for
Bio-diversity
The Guyana government minister said further that, "We're establishing a world-class Centre for Bio-diversity, investing in our most pressing climate change adaptation priorities, and setting up a green investment fund to attract a further US$2 billion in private finance for identified low carbon economic enterprise over the next four years."
However, she acknowledged that this country has been facing "big challenges in intermediating the money between Norway and Guyana."
"But because the sum of money was sufficient to make a real difference, both Guyana  and Norway held their nerve through many difficulties to keep working towards modernizing the instruments that facilitate the flow of funds from north to south," Webster explained.
She also observed that the Low Carbon Development Strategy has captured the public imagination in Guyana as schoolchildren, boy-scouts, businesses, indigenous communities, miners, foresters, politicians, taxi drivers, and just about  everyone has something to say about it.
"There are calypso songs, satirical cartoons in the newspapers, much commentary in the media. It is not always positive, but the volume of debate is impressive, and ultimately what we believe will sustain the strategy through the inevitable difficulties that have yet to come," Webster added.
Around the Web