The Rights of the Child Commission (ROC) in collaboration with UNICEF yesterday launched an assessment report of a two-month study on birth registration in four regions in Guyana and President Jagdeo later signed a declaration.
The report, which addresses the legislation, policy and practice of birth registration, was done in keeping with a UN Convention on the Rights of the Child declaration. The deadline for achieving Universal Birth Registration is 2015.
Speaking to the media following the signing and handing over of the declaration during a simple ceremony at State House, Chairperson of ROC, Aleema Nasir said, "we asked the President to sign on to this document to give it some weight because there are some ways forward, some suggestions as to how we can achieve Universal Birth Registration by 2015 and that is what the declaration says that the government is now signing on to giving its support to achieving this goal".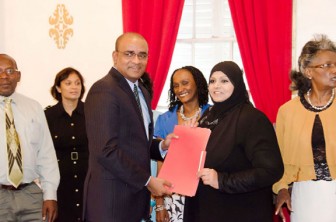 The report was launched earlier yesterday at the Grand Coastal Inn, East Coast Demerara,
The study, Nasir said, focused on Regions 1, 2, 4 and 7 and involved more that 1,700 children living in over 600 households.
She said the report found that poverty was not a major factor in the non registration of children in Guyana. "Regions one and seven had the highest rate of non registration given their geographical location but (in) region one, the areas that are closest to where the centres are had the highest rate of non registration so there is something there that needs to be investigated," she told reporters.
Responding to a question as to why those four regions were chosen, she explained that it was visualized that Region Three would have had high rates of non-registration "so we wanted to have regions where we can compare the figures and things like that. It was not chosen for any other reason but we wanted also to choose places where you had a population of the different races."
She said there are some suggestions and recommendations that are in the study and will be worked on in an effort to achieve the 2015 goal. She pointed out that at some point, the other regions will be part of the study.
She explained that ROC will be working with all agencies including the Ministry of Health.
Nasir said, "we are only now getting our feet on the ground where finances and support and all of that is concerned, so now we have the leverage to do what it is that we feel is necessary to do," when asked about the timing of the study.
She stated that recently, she and other officials from ROC attended a birth registration conference in Panama and were able to see first hand what was happening in Latin America and the Caribbean. She said that Guyana shared similar figures and similar problems with many of those countries.
Around the Web